Several months ago I wrote a post on the future of tourism in Myanmar (better known as Burma), which many groups were hoping to capitalize on in the coming years.  Myanmar has been largely untouched by tourists thanks to a combination of government restrictions and sanctions imposed by countries like the US, and now that tensions are starting to ease there has been talk of trying to take advantage of the country's mystique and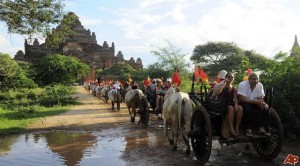 unspoiled landscapes by promoting tourism.  Making the burgeoning tourism industry sustainable and responsible is a big concern, as tourism by nature destroys the beautiful landscapes that draw in tourist dollars, and others are concerned mainly with the status of human rights within the country.
Well, in the intervening months between that post and this one, much has happened.  The biggest event: democratic elections held just last Sunday, April 1st, in which outspoken pro-democracy leader Aung San Suu Kyi won a seat in the lower house of parliament and her party, the National League for Democracy (NLD) won 43 out of 45 seats. According to Myanmar's foreign minister the elections went smoothly, and participation was high. These elections have been hailed as "another significant step for Myanmar in its process of its democratic reform," as Aung San Suu Kyi and the NLD were allowed to campaign freely, foreign observers were not hindered, and there were no serious incidents of intimidation or irregularities.
As a result of these elections several countries, including Cambodia, have suggested that the international community lift some of the sanctions against Myanmar, and the tourism industry has experienced a significant boom.  Now, I often write about how responsible tourism and economic growth are related, and indeed that was largely the focus of my previous post on Myanmar, but this is a clear example of how politics and tourism are related.  In this case the government of Myanmar restricted tourism, international governments restricted tourism, and ethical concerns about Myanmar's government restricted tourism; now that the government has eased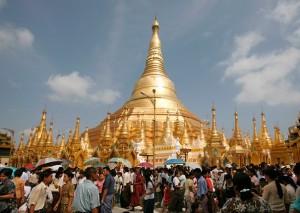 restrictions and made steps towards democratization the international community has responded by lowering sanctions, and tourism is starting to pick up.  And Aung San Suu Kyi's endorsement of responsible tourism in Myanmar certainly encouraged people to visit.
The Myanmar Travel Board held a "Miss Burma" competition designed to draw tourists, and the winner of the competition was declared a "tourism ambassador."  Hotels are now booked several months in advance as people clamor to visit, even if it's just to experience the political situation first-hand and not to experience the culture or sightsee, which has been a little difficult for the country to handle.  The government and others are struggling to find the best solution of how to deal with the steady influx of visitors: allow more foreign hotel chains?  Build more restaurants and airports?  And the biggest question is, of course, whether or not to allow the isolated country to become a major destination like Thailand or to aim for smaller numbers of visitors in order to preserve the environment and cultural sites.  Becoming a major tourist destination would certainly draw a lot of much needed income, both in the form of tourist dollars and foreign investment.  But as I mentioned earlier, tourism often erodes the very environment that attracts people to a destination to begin with.
So, with Myanmar at a crossroads, what are your thoughts?  Would you visit Myanmar now that the country is opening up and becoming more democratic?  Do you think it should become a major tourist hub or try to limit the number of visitors?
Also, if you would like to take a trip to Myanmar—or even if you just like to plan future trips you hope to take, like I do—check out this article from the New York Times.  It has some helpful tips for planning your trip and making the most of it!