The U.S. federal minimum wage was first established during the Depression, and since 1933 has risen from 25 cents to $7.25 per hour.  As it stands now, three years will have passed since the last increase in the federal minimum wage, which is currently just over $15,000 a year for a full time worker.  Can you imagine living on that amount?  The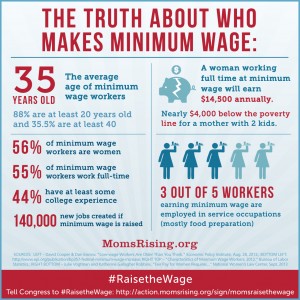 worst part is that the "poverty line" is so low as to be practically meaningless. I'd be interested to hear from any single parents out there who manage to make ends meet at even double the "poverty line".  The Fair Minimum Wage Act, supported by President Obama, would raise the minimum wage from $7.25 to possibly $9.00 an hour or even $10.10 an hour.  That is around $19,000/yr.  This is still not enough money to survive, but it is a start.  Beginning on December 31, 2013, New York increased their minimum wage to $8.00 per hour from $7.25 per hour and will subsequently change it to $9.00 per hour by the end of 2015.  As a proud native New Yorker, I am saddened by this pathetic wage increase because the cost of living in New York is high and so does anyone really believe that anyone can exist on this beggarly wage?
Last year the majority of the House (Including the entire Republican delegation) voted against a proposal to raise the minimum wage to $10.10 by this year. even though this is a policy that is supported by 80% of Americans.  Way to support your constituents.  Clap.  Clap.
Lamentably, so many of us have been taught, and politicians make us believe, that to have a job is to prosper, which Read the rest of this entry »