Income inequality. It's a dirty term, but someone has to use it. Unless you've been actively hiding from any conversation, headline, or news report involving wealth and income inequality, you probably already know that the income gap between the mega-rich and the "regular folk" has grown exponentially since the 1970s.
Yeah, yeah, yeah.
Tell you something you don't know? Well, how about inequality's ties to the U.S.'s slow economic growth since its attempt to bounce back from the Great Recession?  According to economists, our country is in a "permaslump", which basically means the economy is moving about as fast as a sloth.
We know our economy is largely based on capitalism. Spending money is a big part of most of our lives (think Black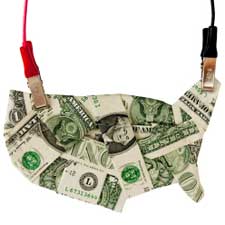 Friday, Back to School season, and even Valentine's Day), but the biggest spenders are typically not the biggest money makers.  And here is where income inequality comes in to play.
"House of Debt"  bloggers, authors and economists Atif Mian and Amir Sufi have shown that low income households spend money, on average, more than high income households who tend to save their money. This was a big problem during the Great Recession because low income households were spending less due to unemployment, uncertain job security, and housing instability. Meanwhile, the higher income households continued to save. Even in a healthy economy, the savers still save.
With the majority of the country's capital concentrated amongst so few households, our nation's money is essentially being held hostage. When so much of it is tucked away, there is little spending money left to go around, and it prevents the needed reinvestment of capital into businesses and banks that is necessary to truly jumpstart the economy.
Luckily, we are not without solutions in addressing this. Unfortunately, many of them are considered to be the words Read the rest of this entry »