Two weeks ago the Syrian government agreed to ends its crackdown on anti-government demonstrators, a development I was skeptical of.  I hoped that the Syrian government was legitimately ready to end the violence, but worried that President al-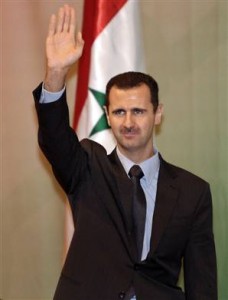 Assad's history of broken peace agreements was a sign that he was not going to commit to a ceasefire.  Unfortunately, the events of the last two weeks have proved that my skepticism was appropriate.
On November 6th, less than a week after the peace agreement with the Arab League was reached, government troops killed at least 11 people in the Homs region during a holiday prayer session for Eid al-Adha, the Feast of the Sacrifice.  Government troops also fired at protesters in and around Damascus, though there were no reported fatalities from those attacks.  Since then the Syrian government has continued to react violently to protest attempts, and it has been estimated that 13 people have been killed by security forces amid international divisions over a way out of the crisis
In response to the continued violence, the Arab League has decided that it is time to take harsher measures against Syria in order to force the government to end the bloodshed.  As this video shows, the Arab League is tired of the regime's reliance on military force, and has called on the Damascus government to halt the bloodshed within three days or face economic sanctions.  The Arab League has issued this warning several times, however, and keeps extending the deadline when the Syrian government fails to respond.  As you watch the video, consider whether or not you think the Arab League will follow through this time and sanction Syria if al-Assad refuses to end the crackdown.  I, for one, hope that they will, before the situation in Syria deteriorates further to civil war and humanitarian crisis. But, given that this is not their first extension of the deadline, I again find myself skeptical.