Peng Liyuan now has an even more brilliant role to play than she did as a national-renowned folk singer – the most popular First Lady ever in the history of China.
Peng became a household name in China well before her husband. She gained popularity as a soprano singer from her regular appearances on the annual CCTV New Year's Gala. Currently, she is the Dean of the People's Liberation Army (PLA) Art Academy, holding the rank of PLA major general. Since her husband Xi Jinping's ascent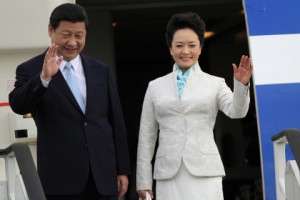 to the Politburo Standing Committee of the Communist Party of China in 2007, Peng largely lowered her profile, in step with the traditional secondary role played by the wives of Chinese leaders.
For decades, the wives of China's top leaders have traditionally gone almost unseen at home and attracted little attention while accompanying their husbands on state visits.
That was in part a negative reaction to Mao Zedong's fourth wife, Jiang Qing, who was widely despised and later imprisoned for her role as leader of the radical Gang of Four, which opened the Pandora box of the chaotic Cultural Revolution. Since then, the wives of Chinese Presidents all consistently chose to stay behind the limelight. Liu Yongqing, who was married to the former President Hu Jintao, seldom appears in public. Liu's predecessor, Wang Yeping, who was the wife of the former President Jiang Zemin, had severe cervical spondylitis. Every time Wang was visiting abroad with Jiang, she always looked feeble and needed her husband's support to get off the airplane.
This time, China's First Lady presented a totally different image. In her first overseas trip as China's First Lady, Peng stepped out of the airplane radiantly with an elegant smile. Shortly, her Chinese-style silk tunic and skirt completely sparked sweeping frenzy at home. On Weibo, Chinese microblogging service akin to Twitter, people were ecstatically acclaiming "We finally got a First Lady that we can be proud of!" Of course, clever businessmen would not lose this chance to make a fortune. Peng's attire went viral on the Internet as copies of the simple black coat she wore on the trip began to appear on the Web selling for $80.
In the long term, Peng should maximize her First Lady Effect in both of two aspects:
Domestically, this glamorous First Lady should strive to add points to her husband. Peng's amiable image would considerably humanize the lofty communist leader. As a new president, Xi needs more support from the public to consolidate his power in the Communist Party of China (CPC). As CPC always flaunts itself as a party serving for the people, now it finally found the best ambassador to get closer to common people. More importantly, her advent can be a sign of the move of political openness and transparency. Since the attire Peng dressed in were all from domestic brands, she could, to some extent, spur the development of the apparel industry and enhance national pride.
Internationally, Peng should be part of China's soft power. For the very first time, China's First Lady showed herself confidently and appealingly in front of the whole world. In 2011, the World Health Organization selected her as a goodwill ambassador for AIDS and tuberculosis, a position that lasts for two years. Undoubtedly Peng's performance experiences, advocate activities, and international influence would make her a new national name card for China.
However, no matter how crazily people admire their First Lady, she is not everything. If CPC really wants to make the leaders more human and less robot, what they fundamentally need is not a superstar First Lady, but the eradication of bureaucracy.