I've written a lot about Syria these last several months, and if you've read any of my posts you know that I am not very optimistic about the situation.  Al-Assad has repeatedly promised the Arab League that he will end the violence in his country, and yet every day there is another story in the news about the latest violent government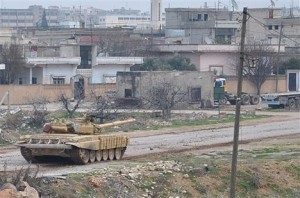 crackdown on protesters.  Syrian activists have long been requesting a no-fly zone like the one that was employed in Libya, and yet, for a variety of reasons, the international community has not responded.  So, it should not be surprising that I am less than enthusiastic about the latest development regarding Syria: an upcoming UN General Assembly vote on a resolution condemning the Syrian regime's human rights violations and backing an Arab League plan aimed at ending the conflict.
Saudi Arabia drafted the resolution earlier in the week as Syrian tanks bombed the city of Homs, which has been getting increasingly desperate as supplies run low because of the siege.  The draft resolution supports the Arab League peace plan which was presented last month and called on al-Assad to turn over power to his vice president and allow the formation of a national unity government which would include members of the opposition. It calls for an end to the violence and lays blame for the human rights violations squarely on the Syrian authorities.  Though it encourages accountability for the guilty parties it does not specifically mention the International Criminal Court.  Also, it makes no mention to the Arab League's call for the Security Council to authorize a joint Arab-UN peacekeeping force.
The Arab League has been looking for ways to intensify pressure on al-Assad, and the hope is that this resolution, if passed, will be the last straw for al-Assad's regime.  It seems that the resolution will pass, too, since, according to an assembly spokeswoman, there are no vetoes and the resolution already has 60 co-sponsors—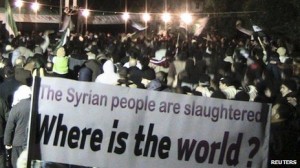 though it is possible that Russia, one of Syria's strongest backers, could cause trouble. Russia's UN ambassador has proposed some amendments to the resolution that Arabs and Western supporters of the Syrian opposition could not accept, since they equate al-Assad's crackdown with the opposition's uprisings against the crackdowns.
The vote will take place on Thursday 2/16, so we'll find out soon enough if Russia will be successful in adding these amendments and thus forcing the General Assembly to veto the resolution, or if it passes.  What will remain to be seen, however, is whether or not this vote will have any effect.  Supporters of the resolution certainly hope that a strong "yes" vote will put so much pressure on al-Assad that he will be forced to step down, but, as we have seen time and again, al-Assad does not seem to be afraid of international condemnation.  Further, General Assembly resolutions are non-binding, meaning that if the resolution does pass, al-Assad will have no reason to comply with it—except of course that a "yes" vote means that the international community is very upset with the violence in Syria and would like to stop, please.
As always, I very much hope that the violence in Syria comes to a rapid end.  An estimated 7,000 people have been killed since March, cities and towns across the country ravaged, and every day the situation gets more desperate.  I strongly doubt, though, that this resolution will amount to anything.  What reason does al-Assad have to comply?  He has already shown that he has little regard for Arab League resolutions, and his allies Russia and China hold a lot of sway in the UN and on the world stage.  I think it's going to take a lot more than this to end the violence in Syria.
So comment below and let me know what you think!  Are you heartened by this General Assembly resolution, or are you more pessimistic—or as I prefer, pragmatic?