I am always (and I mean always) struggling with ideas for creative gifts for holidays and birthdays.  It seems that your boyfriend's mother, or your next-door neighbor, or your new boss always bring the greatest stress when thinking up an appropriate present.  I have the hardest time because I am so strictly opposed to giving useless or thoughtless gifts.  It seems to be a constant battle to give meaningfully and creatively.  Then, I was introduced to an amazing website that has saved me on so much difficulty on Christmas, engagement, and thank you gifts.  Shopping through  Ten Thousand Villages allows me to give unique and meaningful gifts.  The organization is advertised only through word of mouth and on national-public radio, but it is one of the oldest and biggest fair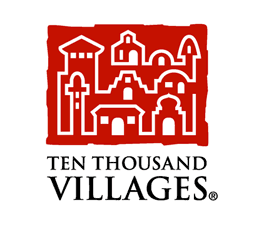 trade non-profits operating in the U.S. and Canada.  Hopefully if the word has not spread to you yet, you'll check out http://tenthousandvillages.com for your next shopping conundrum.
Fair trade organizations have been the center of much craze and much criticism.  It is well known there are limitations to fair trade schemes, and it is likely possible that your good intention as a consumer are causing adverse effects, as can be read about in Katherine's post.  Ten Thousand Villages tries to reach unique populations to benefit from their organization.  Ten Thousand Villages aims to create livelihoods for disadvantaged artisans.  Two key points to this mission are their work for the disadvantaged and their work for artisans.
Disadvantaged encompasses segments of the population that have been marginalized in society and excluded from the active local economy.  These artisans might be disadvantaged in society because of their disability, their gender, or their ethnicity.  Below is a description found on Ten Thousand Village's website of their currently featured artisan group.  This example represents Ten Thousand Villages' commitment to serving the truly disadvantaged, and its dedication to working with local communities to create a holistic strategy to improve economic, social, and health conditions.
"Uganda Crafts is an organization managed by disadvantaged people that helps disadvantaged people. Uganda Crafts markets crafts for artisans and provides training in quality control, design and marketing. The organization also owns a retail store that provides employment for people with physical disabilities. One of the missions of Uganda Crafts is to provide hope to disabled people, youth and those suffering from HIV/AIDS. In addition to training, employees receive health benefits, emergency loans and transportation. Uganda Crafts employs approximately 300 artisans in five workshops or cooperatives, 85 percent of them women."
The second portion of their targeted population is that they are artisans.  Fair trade discussions have often been focused on agricultural products or clothing, items that have obvious markets in their home country.  Unlike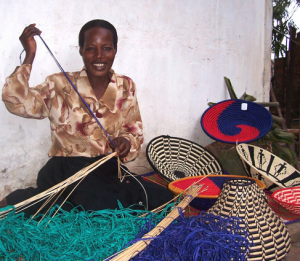 agriculture, art in impoverished communities, especially among marginalized artisans in society, lacks a market where artisans can sell for a fair wage.  Ten Thousand Villages markets to North American audiences by offering jewelry, home décor, accessories, and unique gifts that were hand crafted by artisans or artisan groups.  Ten Thousand Villages operates on a fair price commitment to artisans by allowing them to set their own price and by giving 50% of that price to the artisan before their product ever sells in North America.  This way, artisans receive investment funds to create their products and are assured monetary compensation whether or not their product sells.  Artisans' compensation is not affected by discounts or product markdowns.  If their product fails to sell consistently, Ten Thousand Villages works with the artists on design.  Ten Thousand Villages has a commitment to long-term relationships, where products are bought from the same artisans year after year to ensure a stable income.
Ten Thousand Villages is seen as a model organization for connecting limited artists with limitless buyers.  The organization has been recognized as one of the "World's Most Ethical Companies" by Ethisphere Institute and Forbes Magazine.  In 2008, the organization broke their sale record by making over $25 million worth of sales.  About one third of this money goes directly back to wages for artisans, and the other two-thirds used toward importing, shipping, marketing, administration, and storage.  Compared to the typical 1 to 5 cents to a dollar artisans in many countries receive by selling through traditional commercial retail, Ten Thousand Village's wage allows artisons a fair wage they would currently be otherwise unable to acquire.
Organizations like Ten Thousand Villages are allowing two totally separate and distinct bases to converge and result in mutually beneficial outcomes.  Artisan groups like the one in Uganda featured above are provided a wider market to sell their work to, and in this way help to support their community and social troubles.  Terrible shoppers, like me, in North America are provided a unique and meaningful avenue to shop.  With over 50 stores in North America, you can support Ten Thousand Villages by volunteering at one of their intake stores, hosting a festival sale at your home, or by encouraging others to purchase from this fair trade site.