Most of you probably don't know that back when I first started writing for the SISGI Group about 9 months ago one of my first blog posts was about an ecotourism initiative in India.  Now, I like to think that my writing has improved a bit since then, but it was still a fairly good post about a government initiative to cut down on harmful tourism and boost sustainable development and environmentally friendly practices.  Well, the other day when I was surfing the internet—procrastinating, of course—an article about a responsible tourism initiative in India caught my eye and made me think, "huh.  Didn't I write about that a while ago?  Maybe I should see what's happening now."
As it turns out, it was not the same initiative, but was nonetheless quite interesting, if only because it shows that India's interest in promoting responsible tourism has not waned in the intervening months. The initiative that I wrote about so long ago was launched by India's Ministry of Environment and Forests and dealt mainly with diminishing the harmful effects tourism has on the environment.  The initiative I will be discussing today, however, is actually the second phase of a program launched by the Ministry of Tourism aimed at improving responsible, eco-friendly tourism in the Kerala region.  It was launched on February 7th by Minister of Tourism
Anil Kumar.
Phase One of this program took place from 2008 to 2010 in Kovalam, Kumarakom, Thekkady, and Wayanad, and completed its pilot program last year.  The goal of the program is to incorporate effective sustainability planning into the tourism industry in order to maximize social and economic benefits for the local community, enhance cultural heritage, and reduce the negative impacts to the environment, as the founders of the initiative believe that the tourism industry has a major role in achieving the sustainability (or unsustainability) of a region.  The program is focused on providing a good experience for tourists while enabling local communities to enjoy a better quality of life and preserving the natural environment, thus ensuring economic stability and preventing environmental degradation.  To that end, the initiative embraces diverse strategies like planning, marketing, and a classification system for tourism businesses (though we know classification systems are often not beneficial, as there are many that simply allow businesses to purchase high-ranking classifications that therefore are meaningless)
So far they seem to have done a good job, though, at least in some of the pilot regions.  In Kumarakom, for example, 13 hotels participated in the pilot program as well as 25 Kudumbasree units and many local farmers.  They provided goods for the hotels, including things like coconuts, rice, and vegetables, and it is estimated that about 2,000 people benefitted from this arrangement.  Because of this success the program will now be introduced into several more regions and a classification system for hotels will be implemented.
What interests me, however, is not the relative success or failure of this program (though of course I am glad it has had success and hope it will continue to do so), but the fact that it exists at all and the rationale before it.  The program was developed to combat the negative effects of the 2008 financial crisis and of climate change, something I think other countries should take into consideration.  The tourism industry has been greatly affected by the economic downturn and by climate change, and making moves towards more sustainable and environmentally responsible practices can make a particular destination or business more appealing and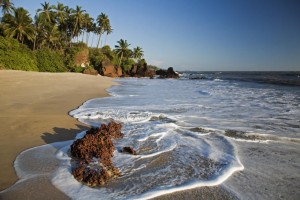 competitive within the tourism market.  It benefits both the local economy and the local environment, two things which should not be overlooked in these difficult economic times.
What also struck as I was researching this post was the sheer number of similar initiatives in India that I stumbled upon, such as this one in Nilambur.  This shows a true commitment to the goal of developing a responsible, sustainable tourism industry.  After all, in a place as diverse as India there is not going to any one-size-fits all plan, so it's good that different regions are developing their own programs.  As I said at the end of my other post on India, I hope that other countries take a page out of India's book and start devoting more resources to developing responsible tourism initiatives.  The programs don't have to be perfect or bring huge economic growth to the region, but we should be experimenting with them, for the good of the economy and the environment.