"Surfing soothes me. It's always been a kind of Zen experience for me. The ocean is so magnificent, peaceful, and awesome. The rest of the world disappears for me when I'm on a wave."  -Paul Walker
Surf's up, dude!  Surfing is a sport chased after by people around the world who seek adventure or a tranquil retreat away from life's worries.  Many surfers develop a deep connection with nature while riding the ocean's waves—some have even called it a spiritual phenomenon.  Yet others find a therapeutic quality to surfing that they have not been able to experience elsewhere, reducing negative symptoms such as anger and stress in their daily lives.  Whatever one's personal reasons for taking up surfing, one thing is for sure—it has the ability generate peace in and out of the waters.
Surfing breeds a culture of oneness.  It does not fuel a system of hatred or oppression.  It is not affiliated with political, social, or cultural discrimination.  In fact, it is now being used to bridge political and cultural gaps and cultivate a peaceful environment in the Middle East by empowering surfers to pursue their dreams, including young females.  Since Hamas took over the Palestinian territory of the Gaza Strip in 2007, the rights of women have become more restricted than ever before.  Freedoms that women experienced before Hamas have dissipated and rules of governance have become stricter.  For example, women cannot swim without a hijab, dance, or walk around in public without a male relative.  These prohibitory enforcements, in addition to the on-going conflict with Israel, have ignited regional hardships, suffering, and isolation from most of the world.  Ryan discusses some of the recent political developments going on in the Gaza Strip in his latest post.
In 2010, a partnership between Gaza Surf Relief, Surfing 4 Peace, and Explore Corps collected, transported, and delivered surfing equipment to all male surfers of the Gaza Strip.  After a long and complicated road to get the equipment to the Gaza Surf Club to distribute to its members, it finally happened with the assistance of the United Nations.  Due to the surf boards having to go through Israel to get to Gaza, it posed no easy task and took 2 years of negotiations for Phase I of this surfing project to reach completion.  However, two young girls who began pursuing surfing did not receive the same entitlement that their male counterparts did due to conservative nature of the society.  These young 14 year old girls, Rawan and Shoruq Abo Ghamen, have continued surfing with the support of their families and the surfing community, breaking down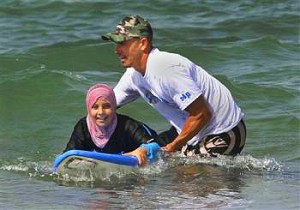 gender discrimination barriers and pioneering a social movement.  You don't think it ends there, do you?
I didn't think so!  The NGO partnership is at it again, now seeking to implement Phase II in the summer of 2011—The Gaza Burkini Project.  Surfing 4 Peace has been working with the girls, their parents, and a diverse advisory board, as well as fashion designers at Parsons the New School for Design in NYC, to create and manufacture a socially-acceptable swimsuit for the girls to maintain their modesty while hitting the waves.  Once the design has been approved and executed, the Burkinis will be sent as part of a care package to Rawan and Shoruq along with surfboards and wetsuits.  If interested in learning more about supporting this project, you can visit Surfing 4 Peace's site.
I commend and applaud the surfing community for their unique contribution to encouraging non-violence through the sport of surfing and the spirit of Aloha, as well as eliminating discriminatory practices based upon gender.  The citizens of the Gaza Strip have been faced with much turmoil and by having a serene escape, even if only temporary, is a wonderful thing.  The physical and mental benefits of surfing have been compared to those of yoga, both of which have been described as "moving meditations."  Surfing allows individuals to savor the moment and disengage from the chaotic mind.  Additionally, it gives girls hope.  Hope for gender equality, and hope for a peaceful society.  I do not think that these surfer girls will be met unchallenged when the project delivers; however, it encourages a spirit of friendly acceptance and a need for progressive peace.
Cynthia Castaldo-Walsh is a Program and Research Intern with the
SISGI Group
focused on gender-based conflict, non-violence and peacebuilding for conflict transformation, and sustainability for conflict resolution.