Brazil has an exciting few years coming up with all the major global sporting events coming to its doorstep. In case you haven't heard, Brazil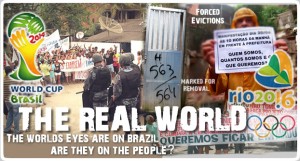 will be hosting the 2014 World Cup and the 2016 Summer Olympics. Having the two largest sporting events in the world in Brazil within the span of three years can mean one major boost (although history shows that major sporting events have sometimes hurt host countries' economies) to an already emerging economy. But it also means major preparations must be made to get the country's infrastructure ready for an influx of millions of tourists. Brazil has been doing just this, although with major ethical implications.
Preparing for events of this magnitude require millions of spending on public transportation, security, and mega event facilities. As a result, job opportunities flourish (albeit temporarily for the construction), tourism increases (boosting the economy) and social development activities (in poorer areas). All seemingly great, right? Enter ethical issues. So what exactly are these ethically questionable preparations Brazil is engaging in and are the world sports organizations acting accordingly to ensure ethical preparations are upheld?
Brazil has received quite a bit of bad press over the last year for the bulldozing of slums and forced evictions to prepare for the upcoming sporting events. The government may defend itself by claiming people are given fair warning, compensated, and relocated; but reports show otherwise. People don't know their house is being razed until the bulldozers are at their front yard, compensation either undervalues people's property or is not received at all, and many are relocated far away from their homes or left homeless.
This isn't something new. Displacement of poorer people for major sporting events has a track record; and more recently occurred (and received a lot of attention) in preparation for the 2010 South African World Cup and the Beijing 2008 Summer Olympics. So, here we have a pattern of similar human rights violations that have gained worldwide attention. What I would hope to see is some sort of action from the International Olympic Committee (IOC) and the International Federation of Association Football (or FIFA) putting on these events towards the host countries. I won't hold my breath.
What should happen is that these leading organizations, would have in place policies within their charters vowing to respect human rights. Host country governments should ensure respect for human rights upon submission of their bid to host (and once again if they win) in a written signed agreement. Any reports of violations would be recorded and investigated by an organization within these bodies. When violations were found, heavy fines would be waged and reports of violations would be sent to the United Nations where hopefully global pressure would force the country to stop violations and recompense those violated.
But pressure can't just come from the higher ups in the international community. It must come from people like you and me who watch and support these events, buy the merchandise, and travel to Brazil to experience these games in person. What's unique about this situation is that the sports events and organizations rely on their fans as consumers. No fans, no business; no business, no money; no money, goodbye organization. We consumers have an incredible amount of power in this situation, and it must be leveraged by the actions of the fans. Write the IOC and FIFA about how upset you are about human rights violations and call for them to bring host countries and themselves to accountability. Post news stories about violations on your social media pages referencing these organizations and their games to spread awareness and keep the issues current. And finally, your money speaks volumes for you. If you really don't like it, don't buy their products but make sure you let them know (again, by writing) why you aren't.
Brazil has the unique opportunity here to serve as the model for how these major events can happen in countries with great economic inequality while respecting the rights of all their citizens. They have the potential to show that these events can bring positive change and improvement to a developing country through productive social development that benefites everyone, including the poor. The World Cup and Olympics have major potential to keep Brazil on the path of a major world emerging economy, but they must make sure it is not at the sake of their people's rights.