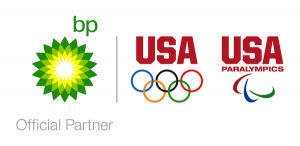 Sometimes the irony of a situation is just so glaringly obvious it's hard to believe it's real. In just a few days the London 2012 Summer Olympics will kick off two and a half weeks of athleticism at its finest. One of the major themes of the games this year is to create the first environmental sustainable Olympics. The London Olympics wants to create a lasting legacy of sustainability that will set the precedent for all Olympic events to come. In seemingly unrelated news, this week a US government panel presented findings that BP ignored hazard risks and was more concerned with financial risks than the larger systematic risks that caused to Gulf of Mexico oil spill in 2010.
Where does the connection and the irony come into play? Well, if you can believe it BP is an official partner of the London 2012 Olympics! Yes, that's right. BP will not only provide environmentally friendly biofuels for the event, but will also invoke the "Spirit of the Gulf" by serving up some of the Gulf's finest seafood to the backdrop of jazz music for Team USA. All the while encouraging people to visit the Gulf and support local tourism. Talk about good timing. The same week the environmental-friendly Olympics are about to start backed by their oil partner  BP, the US government publicly says that BP basically didn't care about ensuring safety in one of the US's most treasured natural coast in in favor of profits.
This all reeks of a PR campaign designed to continue efforts to repair BPs public image in the wake of the damning Gulf spill. BP touts it as their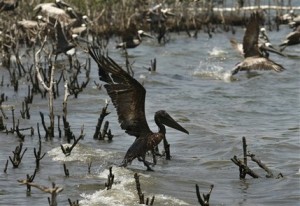 continuing effort to support the Gulf's local industries and culture. But, let's not forget that this is damage control for one of the worst environmental disasters in US history. BP didn't make these grand sweeping efforts to boost the economies of areas near where they drilled for oil before the spill, or even take the necessary and required preventive measures to prevent damage to these economies. This is the kind of thing that is done after the big screw up when the company's reputation and profits are at risk.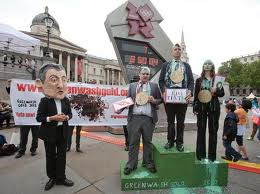 However, not everyone is fooled by BP's supposed commitment to environmental sustainability at the Olympics. Protests have sprung up around London arguing that BP and two other environmentally questionable company sponsors are trying to essentially 'greenwash' their tarnished ethical environmental records. BP advertisements have been vandalized with black paint, or 'tar,' while performers staged a theatrical 'Greenwash Gold 2012 awards' show complete with green, oil-like goo being poured over the actors' heads as they stood with medals on a podium.
So, what do you think? Is BP's heart in the right place or is this all about image repair? Should we give them the benefit of the doubt that maybe now they are trying to rectify their wrongs while also promoting sustainable energy? Are the Olympics allowing their partnership with BP to be about sustainability or is this really about partnership money that will help build state-of-the-art stadiums giving London something to boast about for years to come? It would be easier to give BP more credit had they made huge investments in cleanup research since the oil spill and overhauled their safety standards both for their own company and for contracted drilling partners (this was one of the main problems in the Gulf spill, the Deepwater Horizon rig that blew up and caused the spill was contracted out by BP and thus BP held it up to far inferior safety standards than their own rigs). However, this has not really happened.
So, what to do? Let the Olympics know if you think this partnership is ethically questionable or hypocritical; ask them why they decided on this partnership. Contact BP to see what their efforts have been since the Gulf spill and how they plan to not exploit the Gulf's now fragile economies for their own personal image gain. You will likely not get a response (or will get something generic), but they will know that this is an issue that is not going unnoticed. To get to the deeper roots of the problem, support legislation on regulating the standards for oil companies. Learn about and support legislation focused on alternative sources of energy.