Using Art for Social Change
Many people live less than a half hour away from their extended family. But what if the distance that separated your family was not due to geographic miles but national boundaries? What if you could see the city where your family lived but were unable to visit because you had to go through several political hoops and gain federal approval? This story seems extreme but it is a common tale for many families living in border communities within North America. Yadira De La Riva, a performance artist based in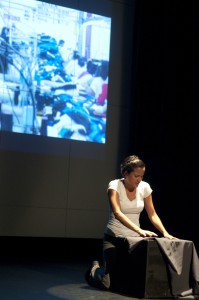 New York explores these issues in her one-woman show One Journey: Stitching Stories Across the Mexican "American" Border.
As part of our Research and Learning Series, SISGI Group President Thenera Bailey, shares a conversation with De La Riva about the lives of those living in border communities and the impact that increased immigration policies have had on families. They also discuss why the arts create a unique platform for discussing and debating social issues. As an artist, De La Riva uses her craft as a method to increase awareness of the issues impacting border communities and helps people to have a personal connection to the immigration debate. Her story places a different perspective on the American immigrant story, showing the interconnectedness of the individuals divided between nations.
To see this video in our Research and Learning Series visit our Video Library.
For more information on Yadira DeLaRiva and her one-woman show you can contact her directly at yadira.delariva@gmail.com.
If you are in the New York area, please attend the performance of One Journey at EarSay presents: Two Different Performances – a festival of emerging work, theatre, poetry and hip hop for human rights and youth leadership hosted by EarSay co-founder Judith Sloan
June 10th
8pm
Spanish Repertory Theatre
138 East 27th Street
New York, NY 10016 Between Lexington and Third Avenues
Advance Tickets available online go to: http://www.earsay.org/ and click on BUY TICKETS NOW
More Information on this Event is Available Here.