No more pencils. No more books. No more teacher's dirty looks.
A favorite song of mine, which I would often sing to myself every time June rolled around. The tune would play over and over in my head, as I would count down to the last day of school in a rush of projects, parties, and end-of-the-year assemblies. Summer was finally here to stay.
No more pencils. No more books. No more teacher's dirty looks.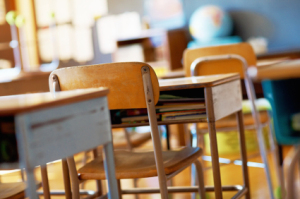 However, for many public school students from Philadelphia, saying goodbye come the end of this school year isn't simply a temporary matter. Starting next fall, many Philadelphia public school students – regardless of whether they're in elementary school, middle school, or even high school – just might not have any more pencils. Books. Or even the teachers they have come to know and love.
Philadelphia city officials, like so many others around the country who are dealing with budget deficits and failing schools, are one step closer to shutting down 23 public schools (approximately 10% of the city's schools) in the city district. Failing and/ or underused schools will be shut down, districts will be re-aligned, and students will be placed in new schools come the start of the 2013-2014 school year. As many as 14,000 students are expected to be affected by the school closures.
There have been protests. Debates at city board meetings. Desperate pleas from students, parents, community leaders, and educators alike, all with the same message. Save our schools, save our children.
No more pencils. No more books. No more teacher's dirty looks.
The school closures are expected to cause approximately 3,000 layoffs of administrators, secretaries, counselors, and other support staff throughout the city. Art and music programs are to be eliminated. Athletic clubs and teams will be cut. In order to begin and chip away at the $304 million budget deficit looming over the city, anything considered unnecessary or inessential will be eliminated from the school environment, and unfortunately the students are going to be the ones who are going to suffer.
Which students exactly are going to be affected? As expected, racial and socioeconomic disparities dominate the changes, as minority and low-income students are disproportionally affected by the school closings.
The Color of School Closings in Philadelphia:

Black Students: Approximately 81% are impacted by the school closings throughout the city despite accounting for only 58% of the total student population in the district.
White Students: 14% of the overall student population, however only 4% are impacted by the closings.
Low-Income Students: 93% are affected by the school closings, even though they make up for just 81% of Philadelphia public school students.
It's not just in Philadelphia either. Recent school closings in cities like New York City, Pittsburgh, Detroit, and other urban areas throughout the country have also raised eyebrows due to the racial and socioeconomic nature of the closings. All too often, it's the low income neighborhoods of color, which are affected by such changes. Take recent school closings in Chicago and Washington D.C., for example. A report by the Chicago Sun-Times found that 90% of students projected to be affected by the city-wide school closings (approximately 54 of the city's public schools are expected to close by the start of the next school year) in Chicago are black – despite making up just 41% of the district's overall student population. Washington D.C. is projected to only close 15 of its public schools in the coming year, however the racial disparities are even greater there. Out of the 2,700 students projected to be displaced by the closings in DC, only two of them are white.
Budget cuts are to be expected. It's part of the world we live in these days. However, education should be our utmost priority at all times – recession or not. All students should be provided with the opportunity to learn in an environment, which forces them to learn, to grow, and to expand their horizons. All students deserve the right to an education based on stable schools, loyal teachers, and the resources they need to succeed – young or old, black or white, rich or poor.