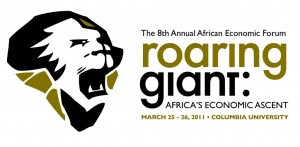 Friday and Saturday, March 25th & 26th, 2011, were two amazing days in New York City.  On both days, Columbia University held the 8th Annual African Economic Forum (AEF), organized by the graduate school of business, the School of International Public Affairs (SIPA Pan African Network – SPAN), and the Africa Law Students Association at Columbia Law School.
The forum brought together an estimate of about 400 people to discuss key issues facing the African continent and strategies for a prosperous Africa.  This years theme is Roaring Giant: Africa's Economic Ascent.  I felt truly privileged to attend some of the amazing sessions which highlighted Entrepreneurship in Africa, the Emergence of African Film, Innovations in Healthcare Delivery, Energy & Infrastructure, the Changing Picture of Financial Services in Africa and many more.
Some of the key panelists included:
J. Kofi Bucknor, Managing Partner, Kingdom Zephyr
Fola Adeola, Co-Founder, Guaranty Trust Bank
Shantayanan Devarajan, Chief Economist – Africa Region, The World Bank
Danny Jordaan, CEO of the 2010 FIFA World Cup
Charles W. Brumskine, Esq., Senator, Liberia
Dambisa Moyo, NY Times Bestselling Author and Economist
Although most sessions were really interesting and highly interactive, one session that in my view took things up a notch, was the session on Entrepreneurship in Africa. The panelists in this session were Yonas Maru, founder & Managing Director of Bandwidth & Cloud Services Group, Chif Umejei, CEO at Vault Noir, and Asif Abdulla, Managing Director Primefuels Companies.  What I liked most about this session was the fact that the panelist  were willing to talk about their personal lives at the start of their various businesses, some of the previous challenges they had encountered in business, and some of the challenges which they continue to encounter as entrepreneurs in the 21st century.  Another fact which I think made the session much more interesting was the fact that we had three entrepreneurs operating from different perspectives – two almost entirely based on technology and another whose business began much earlier and not entirely dependent on technology.
I read some interesting snippets on twitter about the AEF and thought it would be nice to share it:
One shirt doesn't fit all. Africa is unlike other emerging markets – private equity must anticipate situations – Innovative Health panel – Sunnykay
Fashion panel was about if African fashion is seen as luxurious. We have heard "exotic" , tribal, ethnic and spicy. luxurious? – afrosocialite
We cannot just wait around for good leaders to emerge. We've got to start doing things today. Lets empower people – Deverajan
The key point, I took from the AEF is that almost anyone can come up with an idea but the ability to take risks and the importance of good management and continuous innovations cannot be over stated.  It is up to us, individually, to take that first step.
Ufuoma Barbara Akpotaire is a Program and Research intern with the SISGI Group's Research Division. To learn more about the SISGI Group please visit www.sisgigroup.org