Marblemount Washington, located in Skagit County, is a beautiful small town surrounded by forests, lakes, rivers, and wildlife. It is a breathtaking area that any sightseer would love. Known for its hiking trails, motorcycle touring, and sasquatch conference and festival, Marblemount is the home to approximately 250 people. Marblemount is 21 miles out from Concrete, another small town, and 48 miles out from Sedro-Woolley. 

Get To Know Nicole McFarlane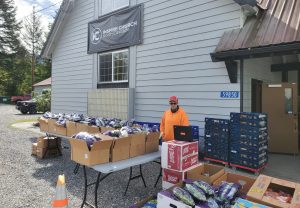 Nicole is an active community member of Inspire church and the local food bank of Marblemount. She dedicates every Wednesday to helping her community receive food resources by checking in members, setting up for distribution, and making sure things run smoothly.
I have had the pleasure of working beside Nicole since December of 2020. She is passionate about the work she does both in and outside of the food bank. The following is an interview with Nicole McFarlane. 
Q: How long have been volunteering? 
A: I have been volunteering for about 4 years. I had started volunteering then stopped for a time due to personal matters but ultimately came back to volunteering as a way to grow and help the community.
Q: Was there a moment that helped you realize this was what you wanted to do? 
A: I wanted to help at the food bank after an incident occurred at the church. Someone had broken into the church for food because they had arrived 5 minutes after closing. This taught me to be more lenient and understanding of the needs people have for food accessibility. 
Q: I understand the Marblemount food bank has recently joined with Helping Hands food bank. Have you noticed any changes in daily operation as a result of this? 
A: Joining with Helping Hands has helped with overhead and helps with aspects of running a food bank. The only downside has been that we no longer receive miscellaneous items such as dog and cat food, which members of the community often look for.
Q: In what ways have you noticed COVID-19 has affected the community of Marblemount with needs regarding food insecurity?
A: Marblemount has not been affected too much. This is because the members of Marblemount are self-sufficient. We are able to ask our neighbors for help and we make it work.
Q: How would you say the community has responded to the presence of the National Guard who is assisting with the COVID-19 response? 
A: They were originally not well received. The people of Marblemount tend to dislike most government intervention. But now more people are happy for the help and mindsets have changed. I was also able to help ease people worries. While at work I would chat with the community members and relay the information I knew as someone working at the food bank.
Q: What are the current goals for Marblemount food bank? 
A: To continue to reach people and be the bridge to food accessibility along with bringing in more resources to Marblemount. Currently, we are trying to build connections with the Community Action Center to be able to provide even more resources. 
Q: What do you believe is the best way we can help out those in rural communities? 
A: Go slow, not fast. Make changes slowly and involve the community. Be mindful of the community you are going into.
Final Thoughts
I'm happy to have been able to work alongside the food bank at Marblemount. When I first started at Helping Hands and began working in Marblemount, I was taken aback by the difference in lifestyle. When speaking to Nicole, she mentioned that the people of Marblemount are often viewed as "rough around the edges" but that is what she loves about them. Because it is these same people that are seen as rough around the edges that are there to help the community.