When you think about Women's rights what comes to your mind? The right to receive an education? Abortion? What about the right to plan their own families? Whenever women's reproductive and health rights are being discussed, there is always controversy surrounding this issue. Especially when it comes to using contraceptives, also known as birth control. In the United States, millions of women use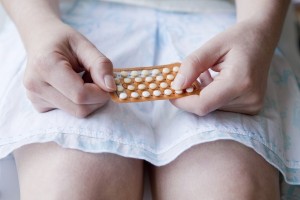 birth control and have easy access to contraceptives. But what about the millions of women in developing countries that want birth control but do not have access to it? Almost 215 million women and girls across the globe do not have access to basic reproductive care. Something simple like birth control can really change the lives of women and help reduce poverty in various ways. I believe that contraceptives should not be controversial at all. It important for governments and organizations around the world to focus putting birth control and family planning back on the global health agenda and realize how effective birth control can be in reducing poverty. On July 11th 2012, a Family Planning summit in London will be held in association with the United Kingdom Government and the Bill and Melinda Gates Foundation. To gain more support and to spread more awareness about this issue before the summit, the Bill and Melinda Gates Foundation along with its partners, have launched a No Controversy to Contraceptives online campaign.
The No Controversy campaign is a fully fledged online campaign that enables women and girls from all over the world to show their support for contraceptive use and the right for women to control their own sexual and reproductive health. Individuals can share their stories online and they will be

published on the website. The website shares more information about the cause such as why this is an issue, why are contraceptives the solution, and what individuals can do to help with the cause. People can also send premade tweets from the website through their twitter account to share with their followers. I definitely like the idea of the campaign and the overall premise behind it. In my opinion, I really think this is a good idea to spread more awareness about this issue by using an interactive website and twitter. I liked that you can also share the link to the website through twitter or use it as your status on facebook.
Even though this campaign is a good idea it is not good enough to create an impact about the issue itself. For instance, there are so many other different platforms for social networking. If the campaign better incorporated other social media sites such as Tumblr, Youtube, and Pinterest into its website. It could have a much larger audience, hence more impact. For example, Almost 80% of Pinterest users are women. Many women would be able to show support by simply pinning something from the campaign, and others would follow by simply repinning. I found out about this campaign only through twitter because I follow Melinda Gates on twitter. Otherwise, I am not really sure I would find out about it elsewhere. The campaign could have integrated different types of social media to create an effective marketing strategy.
Everyone has probably heard the saying that, "A picture is worth thousands of words." People like seeing images or videos because they are visually appealing and it grabs their attention. If the campaign included a documentary style short video or photo collage, it can really pull people into the cause. For example, the campaign could have showcased experiences of real women and the difficulty they face in accessing contraceptives. Videos and Images can carry powerful messages and it is effective way to spread awareness about social issues such as access of birth control in developing nations.
Another problem that I see with this campaign is that other people have been talking for the women who do not have access to birth control in other countries. I have not seen a story of a woman living in Africa or India sharing her point of view about this issue and what she feels presented on the website. In developing countries, many women will most likely not have access or knowledge of the internet. It is difficult for them to share their perspective because there is no medium to which they can share it through. This awareness campaign can also include local family planning clinics in developing countries in part of its plan. The clinics can spread awareness about this issue locally. Also, the clinics can urge women to come to the clinics and give their opinion either though a voice recording or a simple letter. I understand that many clinics are very far away to travel to but women can also send in a letter to support the campaign as well. These letters, videos, or voice recordings can be shared on the website. This will actually give women the opportunity to speak for themselves, rather than others speaking on their behalf.
As a young woman myself, I believe that every woman has a right to make decisions regarding her reproductive and sexual health. Family planning can make a real difference in people's lives especially those living in developing countries. The No Controversy online campaign is a good idea to spread awareness and to gain support about the issue. It is great venue for women from all over the world to share their stories and be able to pledge for change. However, the campaign itself can be strengthened to reach its full potential to create a bigger impact. It is time for women to have the right to make decisions regarding their sexual and reproductive health and it should not be controversial at all. Have you pledged yet? I have.