I started this past Monday afternoon just like any other. I headed to the library to study for my upcoming midterm, put my stuff down at my favorite study spot, and, in spite of my best intentions, opened espn.com on my laptop. In the midst of a sea of headlines persecuting LeBron James for failing to bring a championship to Miami, something caught my eye: "Ex-Duke Basketball Captain Emma Found Dead." I clicked on the link, expecting to find that he had heart complications or finally lost a long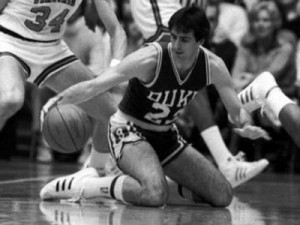 battle with cancer, but I was wrong. Emma committed suicide on June 9th by jumping from the 12th floor of the New York Athletic Club in Manhattan.
As a Cameron Crazie and student with strong interest in mental health, this story really hit home with me. Emma was only 49 years old. I imagined how strange and sad it would be for me to go to espn.com 30 years from now and find out that someone I had spent four years of my undergraduate career cheering on, and to some extent even idolizing, had just committed suicide. Intrigued by the story, I sought to find out more about Emma's life and perhaps understand why he had taken up such drastic measures.
The article I was reading directed me to a eulogy by Jay Bilas. Bilas and Emma were teammates under Coach K in the 1982-1983 season. In the eulogy, Bilas gave us insight on Emma's character. When Emma and Bilas were teammates, Emma was a senior and Bilas was a freshman. Bilas portrayed Emma as a practical jokester, an unselfish teammate, and a leader. Such traits clearly helped Emma throughout his life. He went on to be drafted by the Chicago Bulls, received his Masters from Columbia, worked on Wall Street, became the president of a company, and even wrote six books.
By any objective view from an outsider, Emma had an immensely successful life. He got to play basketball for arguably the best coach in college basketball history. He got to captain a team of Duke legends such as Johnny Dawkins, Mark Alarie, and Jay Bilas. He held degrees from two of the most esteemed universities in the country. He was able to use the skills he gained playing basketball and going to school to have a successful professional career. Such success is thought to bring about inner-peace and happiness. But this was clearly not the case for Emma.
Relatives revealed to the police that Emma had been depressed prior to committing suicide. Such tragic events remind me of why I have such a strong interest in combating the prevalence of mental illnesses. They can not only torment the victim of the illness and lead him to end his life early but also have a profound effect on everyone close to the victim. One blogger for Duke Basketball Report, who was also commenting on Emma's suicide, expressed this in words better than I can:
"Losing people you care about is always tough, but nothing is tougher to come to terms with than suicide. On the one hand, you wish you had known or understood or that you could have intervened in some way. On the other, there is the absolutely raw emotion when someone does this. Perhaps someone being murdered is more searing, but at least there you can blame someone, have an emotional focus. In a suicide, there's just grief and bewilderment."
For suicide, people cannot blame a murderer or tumor or unhealthy lifestyle. The truth is, some of the strongest people are incapable of constantly fighting depression alone and eventually give in. Their absence or overabundance of certain neurotransmitters can be overwhelming, and eventually lead to suicide.
Family and friends often ignore the physiological aspect of depression and put blame on themselves for not being more available or loving. To them, the death is so cruel and avoidable, so unnecessary and so hard to determine a culprit. As a result, they often put the responsibility of the death on their own shoulders. They consider themselves to be the murderer, tumor, or unhealthy lifestyle. Bilas conveyed this sentiment in his eulogy, when he said "Like all of [Emma's] teammates, I just wish that I could have been there more for him." But nobody should carry the burden of another man's life. No matter how close I am to you, I cannot understand exactly what you're thinking or what you're going through. Putting the blame on oneself is not healthy, wise, or correct. If a person was aware of how fragile the mental psyche was of someone they cared about, they most certainly would do anything in their power to prevent tragedy. They would have been more available or would have helped them seek professional help. In the event that their loved one had had a heart attack or been shot, they definitely would have rushed him to the hospital.
The real perpetrator of this death is the lack of credibility that depression and other mental health disorders have as legitimate health concerns. If everyone were aware of how dangerous depression can be, we would all take warning signs more seriously. Sadly, we cannot bring Thomas Emma, or countless others who lost their battle with depression, back to life. However, we can use these examples to arm ourselves with the knowledge of how serious of a problem depression is. In the future, when we see a family member, friend, or even acquaintance in need of help, we can help them in any way possible, whether it be by taking the time to talk to them, go somewhere with them, or even help them seek professional help.
Kurt Vonnegut once wrote that there is only one rule on Earth: "God damn it, you've got to be kind." I believe that most humans try to abide by this rule. But sometimes, they lack the knowledge of what it takes to be kind. Most of us are aware that someone who has been shot or just suffered a heart attack needs help, and the kind thing to do is to rush him to the hospital. Such impetus does not yet exist with fighting depression. By learning from the tragedy of Emma, and many others like Emma, we can learn to be even more kind and save lives.
Shaunak Varma is a Program and Research Intern with the SISGI Group focusing on mental health. To learn more about the SISGI Group visit www.sisgigroup.org.