Regular readers of this blog will know that Myanmar has long been one of my favorite topics.  I've written many times, often quite hopefully, about what the future may hold for this isolated country as it begins to open up

economically and socially.  New president Thein Sein has made serious moves towards reforming the military-ruled country, and is in fact scheduled to receive a peace prize from the International Crisis Grop (ICG) tonight.  The decision to award the Pursuit of Peace prize to Thein Sein is, of course, highly controversial, with many arguing that the ICG has glossed over Thein Sein's many imperfections and over-emphasizing his efforts at reform.  Still, Thein Sein receiving a peace prize is a monumental step forward for Myanmar, which is still known mainly for human rights abuses.

Things are not all rosy and bright for Myanmar, however.  I was dismayed this morning to read that Human Rights Watch (HRW) has accused the Burmese authorities and members of the Arakanese group of ethnic cleansing against the Rohingya Muslims.  A recent HRW report on the situation declares that over 125,000 Rohingya Muslims have been displaced by Burmese security forces and Buddhist monks in this humanitarian crisis.  The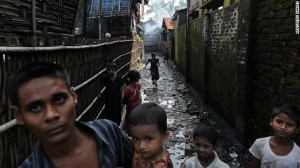 displaced have been denied access to humanitarian aid, according to HRW, and are unable to return home.
There is a history of animosity between the Rohingya Muslims and the Arakanese, and this is merely the latest round of destruction.  In June of 2012 sectarian violence broke out between the two groups, and in the aftermath of the fighting government officials destroyed mosques, conducted mass arrests, and denied aid to Muslims.   Then, in October of 2012, Arkanese mobs attacked Muslim residents while security forces looked on, displacing and killing many more Rohingya Muslims.  Thein Sein did conduct a highly publicized diplomatic tour of the displaced person camps, but little has been done to get humanitarian aid to the displaced Rohingya.
This report was quite conveniently timed, as the European Union is set to meet this week to discuss lowering sanctions against Myanmar.  Presidential spokesman Ye Htut has accused HRW of timing the report specifically to coincide with the EU meeting, and calling it "one-sided" and stating that the government will not pay attention to such a biased report.
So what do you think of all this?  Sectarian violence and human rights abuses are clearly still going on despite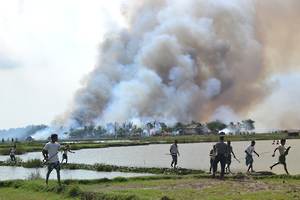 President Thein Sein's attempts at reform, so what does that mean for Myanmar's future?  Reducing sanctions against the country and allowing increased business investment and tourism from the west would certainly bring money into the impoverished country, which could potentially improve the circumstances and quell some of the violence.  On the other hand, money flowing in could cause an increase in violence if it creates further inequality.  What do you think the EU should do when they meet?  Agree to lower some of the sanctions in the hope that Thein Sein will be able to continue reforms and that the money will improve conditions, or continue to impose–or even increase–sanctions until the conflict is resolved?  Let me know in the comments!