Everybody knows about "the media". Everybody talks about "the media". However, how many people know who actually owns the media?
In 1983, there were 50 companies, which owned approximately 90% of the American media. However, the media landscape has changed dramatically in the last thirty years due to globalization, commercialization, and large-scale consolidation. Currently, there are six, count that – six – main media giants, which control 90% of the American media. These six media conglomerates control 90% of what we read, 90% of what we watch, and 90% of what we listen to on a daily basis.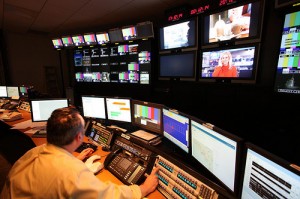 Who are these six media giants exactly, and which companies do they own? Take a look.
Time Warner: HBO, Time Inc., Turner Broadcasting System, Inc., Sports Illustrated, Fortune, Marie Claire, People Magazine, TNT, TBS, Cartoon Network, TMZ, MapQuest, Castle Rock
Walt Disney: ABC Television Network, Disney Publishing, ESPN, Disney Channel, A&E, Lifetime, Buena Vista Home Entertainment, Miramax Films, Touchstone Pictures, Walt Disney Pictures, Pixar Animation Studios
Viacom: Paramount Pictures, Black Entertainment Television (BET), Comedy Central, Country Music Television (CMT), MTV, Nickelodeon, Spike TV, The Movie Channel, TV Land, VH1
News Corporation: Dow Jones & Company, Inc, Fox Television Stations, The New York Post, FX, TV Guide, Speed Channel, 20th Century Fox Home Entertainment, DIRECTV, The Wall Street Journal, HarperCollins Publishers, The National Geographic Channel, STAR
CBS Corporation: CBS Television Network, 60 Minutes, Jeopardy, NFL.com, CNET, Showtime, CBS Radio Inc. (130 stations), Infinity Broadcasting, Simon & Schuster (Pocket Books, Scribner)
Comcast: E! Entertainment Television, Style Network, Golf Channel, NBC Sports Network, NFL Network, Bravo, Syfy, CNBC, Oxygen, Plaxo, Fandango
As always, profits are the name of the game. And for all these multinational corporations, huge profits come in the form of advertising revenue. Given the dependency that media corporations have on their sponsors, many networks will refuse to report on anything that even remotely threatens their relationship with their fellow advertisers. And therein lies the problem. At the end of the day, the companies' loyalty lies in the hands of the sponsors – both the advertisers and the government alike – who are funding their operations, rather than in the public interest.
"At the time of the first Persian Gulf War, CBS was owned by Westinghouse and NBC by General Electric. Two of the major nuclear weapons manufacturers owned two of the major networks. Westinghouse and GE made most of the parts for many of the weapons in the Persian Gulf War. It was no surprise, then, that much of the coverage on those networks looked like a military hardware show. We see reporters in the cockpits of war planes, interviewing pilots about how it feels to be at the controls. We almost never see journalists at the target end, asking people huddled in their homes what it feels like not to know what the next moment will bring. The media have a responsibility to show the true face of war. It is bloody. It is brutal. Real people die. Women and children are killed. Families are wiped out; villages are razed. If the media would show for one week the same unsanitized images of war that the rest of the world sees, people in the U.S. would say no, that war is not an answer to conflict in the 21st century. But we don't see the real images of war. We don't need government censors, because we have corporations sanitizing the news".  –Why Media Ownership Matters, The Seattle Times
Ownership matters. The media matters. And considering we are a nation hooked on the media, we have to take a more critical eye when it comes to our own media consumption, and specifically where our media is coming from. It is imperative that we halt the increasing consolidation of media companies all across the country. We need to protect our local newspapers, radio stations, and networks from going out of business, or being bought out by larger corporations. Diversity is key if the media is to protect its local citizens. Some individuals have already picked up the fight, like Free Press, an organization which uses a combination of grassroots engagement and public advocacy to promote public interest throughout the media.
The media doesn't have to be an all-encompassing oppressive force, dictating what we should buy, what we should wear, what we should look like, and even what we should believe. It is now – but it doesn't have to be.