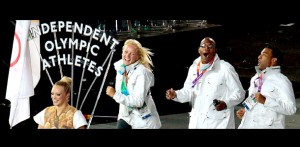 Did you know that there's such thing as independent athletes that participate in the Olympics without representing their home country? In a sport where country pride is so fundamental to the meaning of the games, I was kind of surprised. I found out about this while reading a Huffington Post piece about Sudanese refugee and Olympic marathoner Guor Marial. Marial is one of four independent athletes, the only one that is a refugee, participating in the 2012 London Olympics. This got me thinking: "Where do refugees fit into the Olympic games?" and "How do people that are refugees participate in the Olympic Games when they have no home country to officially represent?"
I must admit that in previous posts I have been somewhat critical of the Olympics or circumstances surrounding it. But, this time I was pleasantly surprised. After a bit of research, I learned that refugees really do play a role in the games and are recognized for this achievement. It is a rule of the Olympics that allows refugees a chance to participate. It turns out athletes from countries that do not have National Olympic Committees, which allow them to participate in the games, can compete as independent athletes under the Olympic flag. Guor Marial, a Sudanese refugee who escaped child slavery and later came to America where he is not yet a citizen and therefore is unable to compete for the USA, is this year's hero example of the independent athlete. It turns out that although Marial is the only current refugee in the games, he is joined by former refugees as well. He is in London with Sudanese refugee Luol Deng competing for the United Kingdom and refugees Danell Leyva from Cuba and Lopez Lomong from South Sudan, both competing for the USA.
But, the Olympics do more than just allow refugees to compete in the games without the formal backing of their countries. They also have teamed up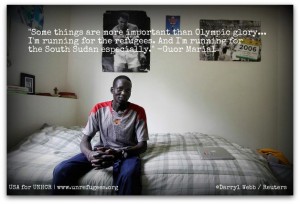 with the UNHCR to put on, for the third time, the 'Giving is Winning' donation drive giving 100,000 brand new sports and casual clothes donated by the athletes themselves, to refugees camps. This has been a growing campaign since it started in the 2004 Athens Olympics and continued in the 2008 Beijing Olympics. This summer's games will be the largest donation drive yet.
Now, maybe you're thinking what I was at first glance: "Great, another handout of some ridiculous looking clothing (given the context of poverty in refugee camps) to refugees in camps that need their basic needs, like water and sanitation, met." It's always so easy to criticize charity. But, let's look beyond the literal gift that is being handed out here. Sports offer refugees a way to empower themselves and keep hope alive about a better future for their families. Refugee Olympic athletes (and other successful refugee athletes) like Marial and Lomong have the power to inspire refugees everywhere. These clothes may serve as a symbol of hope for refugees. Maybe these Stella McCartney sports duds will do more than just provide refugees cover. Maybe they will also provide them with a sense of dignity in a place of struggle.
I think the Olympics do a great job in recognizing refugees in the world, refugees still in need, and those who have made their way to new lives. But, as I always wonder, could they do more? What about drawing attention to the unfortunate situations in the current and former refugee athletes' home countries? The personal stories of the major athletes are usually shared online and on TV, but it would be great if they did a special piece on these refugee stories during a primetime TV spot providing viewers with information on organizations working in these countries and refugee camps. It would also be great if the Olympics and UNHCR solicited donations from the games' attendees and viewers as well. This would not only help to raise awareness about refugee situations, but also get people involved. Hopefully this campaign will continue to be a part of future Olympic games and will continue to grow in size. This could be the early stages of a legitimate commitment by the Olympics to highlight and help the situation of refugees around the world by engaging famous athletes and spectators together.