The other day I was driving from New York down to North Carolina. As the day wore on, my stomach began to give me the all too familiar growl letting me know it was time to refuel (my stomach not the car). As I kept my eyes peeled for the universal blue highway signs titled "FOOD," I began to notice that every sign my eyes darted across listed only fast food and/or chain restaurants – Chili's, McDonald's, Burger King, Taco Bell, Applebee's… the list goes on.
After deliberating in my head for quite some time I decided to treat myself to a "Baconator" with fries and a large soda from Wendy's. 15 minutes, 1,810 calories and 89 grams of fat later I was back on I-95 cruising towards North Carolina. It was fast, convenient, cheap, but most importantly it was delicious.
Fast food has become a staple in the everyday American's diet. Poor nutrition, insufficient exercise and physical activity, and lack of knowledge are all contributing factors to the United States' growing obesity epidemic. The obesity numbers in the U.S. – for both children and adults – have reached unprecedented highs. A shocking 33.8% of all adults are obese. Obesity's effects go beyond health issues. In the U.S. alone, obesity is responsible for nearly $150 billion each year in healthcare costs. Not only is obesity a serious issue in our society, but also it shows no signs of slowing down.
The underlying issue behind our obesity problem is our culture. We live in a fast paced and convenience-driven environment. Technology, as fantastic as it is, has pushed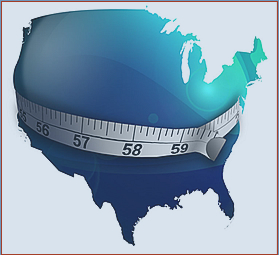 people from the basketball courts and soccer fields to the computer desks and couches. I can watch every episode of every television show that interests me without ever being near a television. I can make phone calls, play video games, and surf the Internet all from a single device without ever having to physically move. Technology's focus on convenience has actually reduced our time physically moving from place to place.
Exercise and physical activity are key factors in weight control. Unfortunately physical activities such as sports – for both children and adults – are taking a backseat to video games and the Internet. Michele Obama's Let's Move campaign and the NFL's Play 60 campaign are two eminent programs in the fight against childhood obesity. Play 60's goal is to have children be active for 60 minutes every day. This is a great aim, but startling at the same time. Are most of today's youth not engaged in physical activity for a mere 60 minutes?  While NFL's Play 60 is a great campaign that is truly helping to combat obesity, it points out a serious flaw in our culture.
Society's influence on the foods we eat is also a major contributing factor to our problematic obesity rates. I'm sure most of you have seen one of the many documentaries that highlight our culture's issues concerning the foods we eat. Food Inc. and Supersize Me are two well-known films that shed light on the problems with our diets. People – whether it's for economic reasons, political reasons, cultural reasons, etc. – are finding themselves nudged towards a diet filled with fatty foods.
The positive side of all this is that many large-scale campaigns are sprouting up to help reduce obesity rates. Obesity is not an incurable condition. We know the causes and we know the cures. The next step in this fight is to educate and make known the importance of a healthy lifestyle. Technology will continue to advance and cater towards our desire for convenience. People will continue to crave that number 7 from McDonald's. Therefore, we must make realistic adjustments that allow for raising awareness about this issue.
Established culture, when a driving force behind a phenomenon, is incredibly powerful and hard to alter. Therefore, I believe that the government should avoid paternalistic measures when trying to solve this problem. Change in lifestyles are not easily achievable through forced paternalism. Discussions about a "fat tax" is common when talking about ways to encourage people to eat healthier. I am a very strong opponent of such a tax. Fat taxes disproportionately affect low-income citizens, since they are the ones most commonly consuming unhealthy foods because of financial limitations. Taxing fatty foods would only harm low-income families. Furthermore, paternalism is often met with great resistance since people never like the government telling them what to do. A fat tax would cause more harm than good and should be avoided at all costs.
Making citizens aware of the damaging effects of obesity and how to avoid obesity is our best bet at combatting this health condition. Obesity disproportionately affects low-income and less educated citizens. The current campaigns that focus on obesity awareness are only influencing a limited audience. I believe that a perfect vehicle for reaching a broader audience is the public school system.
Learning to lead a healthy lifestyle should be a part of our public education system. Growing up a public school student in New York, I was never taught the importance of eating right and staying physically active. I think instituting strong education programs that focus on healthy living is vital in the fight against obesity. While campaigns, such as Let's Move, are fantastic starts to educating the public, they will never be enough to overcome the everyday influences of our culture.  Knowledge is power, and the government and our public education system needs to start placing more emphasis on teaching our youth the importance of eating well and exercising.
Luke Richner is a Program and Research Intern with the SISGI Group focused on global health issues, energy markets, and economic development. He is a senior at Duke University, completing his final semester.