Last Monday, after 3 months of labor disputes, the NFL lockout finally ended. Football nuts around the country (myself included) rejoiced. The threat of losing our favorite, most highly rated sport for an entire season was finally gone. We still have our best excuse to be unproductive on Sundays. Football is back, baby.
I am a typical fan. Every August, I am convinced that my beloved Detroit Lions, after years and years of breaking my heart and managing to snatch defeat from the jaws of victory year, will finally put the pieces together and go undefeated and beat every team we face by 40 points. This year is no different. Fueled by this (perhaps irrational) optimism, I have obsessively read every article about the NFL that I can. I have even spent more time than I'd like to admit on a Detroit Lions message board, tracking which free agents we're attempting to sign and analyzing how this player can improve our team.
But when I visited the message board yesterday, hoping to find an article fawning at how well quarterback Matt Stafford played in his first practice at training camp or predicting a Lions playoff appearance, a thread with an atypical name caught my eye. It read "NFL star diagnosed with mental disorder."
Given my interest in mental health, I was intrigued. I clicked on the thread. I was led to Omar Kelly's article "Brandon Marshal Diagnosed with Borderline Personality Disorder," which was published in the Sun Sentinel. With so many other stories in the NFL taking place over the past week, I'm worried that this one might slip through the cracks and be missed, even by the biggest sports fans. Thus, I'd like to spend the rest of this post telling you about the story and giving you my take on it.
For those of you who don't know, Brandon Marshall has had a very successful, albeit tumultuous, career. A two-time Pro Bowler, Marshall has overcome his unflattering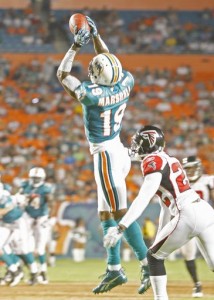 status as a former 4th round draft pick and exceeded expectations to establish himself as one of the best wide receivers in the NFL. He has recorded over 100 receptions in three consecutive seasons, a feat that only four other players have accomplished in NFL history. Frustrated that the Denver Broncos wouldn't restructure his contract and pay him more money after two phenomenal seasons, Marshall once demanded to be traded and infamously showed his discontent by purposefully batting balls thrown toward him at practice. Marshall's issues have extended beyond the football field. He has been arrested multiple times for various reasons. He hit rock bottom this past April, when following an argument with his wife, he was stabbed in the stomach.
Following an outburst at a team meeting, Marshall realized he might need some help. He went to Boston's McLean Hospital to seek treatment was diagnosed for BPD. Though not said explicitly in the article I read, the author suggested that Marshall has been undergoing Dr. Linehan's Dialetical Behavior Therapy by stating that Marshall was discovering things such as "mindfulness, radical acceptance, and distress tolerance." After going through months of what I presume was DBT, Marshall has finally "learned to defuse the bomb inside of his head" and has gained the skills needed to "survive, if not thrive." This therapy will ultimately help him be a better teammate, husband, and person.
But Marshall is not just satisfied with receiving treatment and improving. He has seen the diagnosis of his illness as an opportunity to spread awareness about BPD. In my last article, I mentioned that people coming forward with psychological disorders can help give others hope. Marshall offered perhaps even more tangible benefits of people being honest about their illness, benefits that are particularly significant when the person coming forward is a celebrity. Marshall realized that though he has been able to reap the benefits of DBT, most people with BPD cannot afford the $60,000 cost of his treatment program. Thus, he is advocating better medical coverage. He'd also like to see more funding go into advancing BPD research and treatment. Finally he wants there to be more screening for BPD, so people can be aware of their problems and find treatment.
Marshall is taking advantage of his fame to help bring these issues to light. He is being honest about his illness with the media and making the documentary "Borderline Beast." This documentary will bring awareness to BPD and potentially help others save their own lives.
The road that Marshall faces will not be easy. He is a professional athlete, and he will probably face invasive and uncomfortable questions about his personal life throughout the season. Every time he drops a ball, some obnoxious reporter is bound to ask whether the disorder or the treatment is responsible in that tiny lapse in focus. But to Marshall, the inconvenience of being in the public eye is worth it. He stated "I'll be the face of BPD. I'll make myself vulnerable if it saves someone's life because I know what I went through this summer helped save mine."
Brandon, if you ever get the chance to read this, you are doing a really honorable thing. Most people struggle to sacrifice personal comfort for the benefit of other people. The impact of your actions are already being felt. One Youtube comment on the trailer for your documentary reads:
so many things i have been going through now make sense. despite many successes in my life, i struggle to be happy for an extended period of time and if Brandon hadn't come forward I would still be thinking that there was something uniquely wrong with me but really it is something that effects many people who have been through similar experiences. what people don't get is we dont want to make excuses. it is just incredibly comforting to know that this is something that can be tackled.
This is the reaction of just one of the many people that you will ultimately help by being honest about your condition. Thank you for what you are doing. I will definitely be rooting for you and your 'Fins this year. Unless, of course, you're playing my Lions.
Shaunak Varma is a Program and Research Intern with the SISGI Group focusing on mental health. To learn more about the SISGI Group visit www.sisgigroup.org.