Keeping the Gender Equality Flag Flying
A couple of weeks ago, I blogged about my dinner with Marie Wilson and about the role of women in International Economic Development. In keeping with that theme, I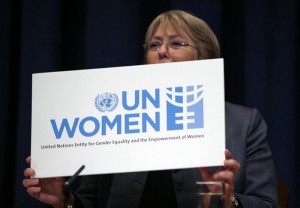 was excited to read about the launch of U.N. Women on Thursday last week.
What is U.N. Women you might ask, and why do we need another agency pushing for gender equality? It is pretty simple actually. What U.N. Women does is that it combines four pre-existing U.N. agencies into one task force, i.e. the U.N. Development Fund for Women (UNIFEM), the Division for the Advancement of Women (DAW), the Office of the Special Adviser on Gender Issues, and the U.N. International Research and Training Institute for the Advancement of Women (UN-INSTRAW). But the amazing thing about this launch, is that U.N. Women is not only talking about pushing for gender equality but takes things a few steps further. Now for the first time in history, women at the U.N. will have a seat on all the major decision-making bodies within the U.N.
I have spoken with a few people who believe that gender equality issues, particularly as it affects women, receive a lot of attention. Some people even go as far as to refer to it as the "gender card". I am always quick to correct them because the idea that gender issues are over-flogged is a serious misconception. Statistics and reports from most NGOs point to the fact that funding remains relatively low. IPS, for example reported that pledges for 2011 total $55 Million dollars. In principle, this may amount to a lot of money but when you look at the number of countries involved and the difficulties in pushing governments in those respective countries to conform to somewhat international standards, it is pretty easy to conclude that the funds pledged are insufficient to meet the problems.
Another great thing about U.N. Women in my view, is that when you have a woman like Michelle Bachelet as the Executive Director, you can expect great things and substantial change for women. She was at the top of my list in my post, Sunday Supper with Marie Wilson, for women we should all see as inspirational and empowering.
I intend to keep a close eye on the activities of U.N. Women and I expect to write about their works around the World in future.
Ufuoma Barbara Akpotaire is a Program and Research intern with the SISGI Group's Research Division. To learn more about the SISGI Group please visit www.sisgigroup.org.