Families and children from across the world are escaping to our borders in the hopes of living in a country where they will be safe from harm and have opportunities for a successful future. These children and families are changing the landscape of immigration as we know it. In the past few years, the immigrant population has shifted dramatically at our southwest border from 90% single adult Mexican men to 60% families and unaccompanied alien children (UACs) from Central America.
The increasing anti-immigration rhetoric in the U.S. portrays immigrants as dangerous criminals, but gangs, drug trafficking, corruption, and weak national laws all contribute to the prolific violence that is sending families and children running for protection. Conditions are so bad that in 2016, Honduras and El Salvador even had the two highest rates of homicide in the entire world. Maritza Flores, who traveled to the U.S. border in 2018, said in an interview,
"Many people think we left because we are criminals. We're not criminals – we're people living in fear in our countries. All we want is a place where our children can run free – where they're not afraid to go out to the shops."
Children who leave their countries in the wake of trauma and make the long journey to the U.S. find themselves re-traumatized upon arrival at the border and at risk of severe mental health and development challenges. On the southern side of the border, metering practices at ports of entry have resulted in long wait times in dangerous, squalid refugee camps, prompting families and children to make the difficult decision whether to cross the river and enter illegally, or stay where they are for an indefinite amount of time, potentially endangering their lives. On the U.S. side of the border, however, conditions are barely better. If traveling as a family unit, children may be separated from their guardians. Additionally, UACs and accompanied children alike often find themselves in detention centers long past the legal limit of 72 hours, resulting in dangerous health environments and even death.
What Can We Do?
There is no easy fix to the immigration crisis; it will require a collaboration across borders to address the root causes in violent, war-torn countries in Central American as well as throughout the world. The voices of refugee children escaping violence in other parts of the world, including Africa and the Middle East, have been quieted at the moment due to less news coverage and stricter policies that prevent many from entering the U.S. and telling their stories. But we cannot forget them, and while we in our communities may not be able to solve the world's crises, we can at least care for and support the world's children.
We can support the children trying to reach our borders and support their well-being in every step of the immigration process. Importantly as well, we can help those who are beginning new lives in the U.S. as they navigate the challenges of integrating into our schools and communities. We need to protect and restore their mental health, give them the support they need to succeed, and eradicate hateful discrimination against them.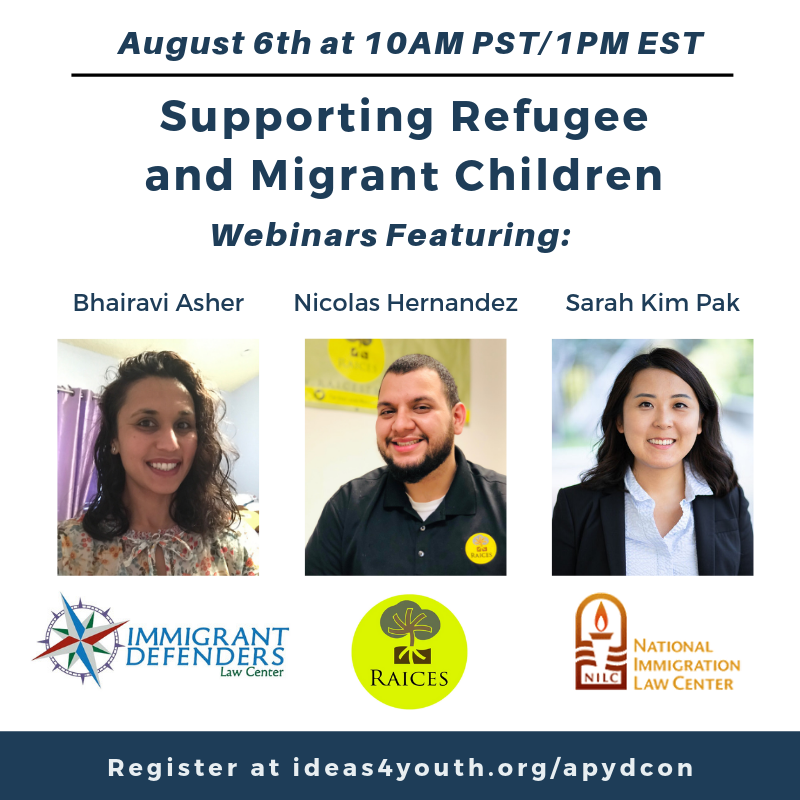 These children are our future. Everyone from community members to professionals to educators can help. Join us for our Alliance for Positive Youth Development Best Practices for Youth Conferences on August 5-7, as we discuss this issue further and learn best practices for supporting refugee and migrant children. The second day of workshops is devoted to this topic and includes an expert Q&A panel featuring Bhairavi Asher, Children's Representation Project Managing Attorney at ImmDef, and Nicolas Hernandez, Organizing Director at RAICES Texas. Following this will be a presentation by Sarah Kim Pak, UCLA Public Service Fellow at the National Immigration Law Center. Register for free at ideas4youth.org/apydcon.