Last night was a significant moment in college basketball history. Mike Krzyzewski, dubbed "Coach K" by his Cameron Crazie faithful, reached 903 wins and passed Bobby Knight to become the all-time leader in wins among NCAA Division I Men's Basketball Coaches. This achievement is just another feather in the cap in K's long and illustrious career. He has already reached 11 Final Fours, and won 12 ACC regular season championships, 13 ACC tournaments, 4 national championships, and a gold medal with the United States men's national basketball team in the 2008 Olympics. With such an astonishing resume, it is becoming indisputable (in my admittedly biased opinion) that he is the greatest coach of all time.
But to limit K's accomplishments to what he has done with his basketball teams is to diminish the man that he is. Success in life for a coach or player should not be relegated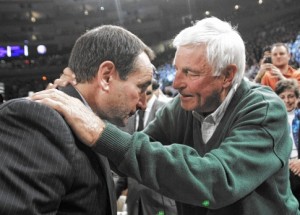 to their wins and losses, just like an ordinary man's life should not be judged by his net worth. Ask Joe Paterno and Bobby Bowden, the two winningest coaches in college football history, whether or not they'd trade a few wins to have handled scandals at their schools with more moral austerity and prevented their own falls from grace.
Coach K is special. And I don't say this just because of the records he's set, or even because he managed to do so much without allegations of major recruiting violations (unlike many of his contemporaries). I feel so strongly about K because I think despite these larger-than-life accomplishments, he has managed to retain his humanity.
Over the years, I have read many stories illustrating just how great of a man Coach K is, but I'll share one specific example that comes to mind. In 1997, Krzyzewski helped coach at Michael Jordan's Flight School – a basketball camp for adults. Attendees of the camp had no future in college and professional basketball. They just wanted the opportunity to be coached by the best. One camper – Ross Deutsch – was one of many campers to develop a relationship with Krzyzewski at the camp. For him, the experience must have been a dream-come-true. As a 36 year old man, he was receiving coaching from the same men who coached the best college and professional basketball coaches in the world. But this high didn't last long. Soon after the camp ended, Deutsch's 7-year old son died from a brain tumor.
A heartbreaking loss like this can be crippling for a parent. Deutsch, quite understandably, was quite upset. Coach K, having to juggle the responsibilities of being a head basketball coach of a premiere program in the country, could easily have been too busy to help out a friend in need. But as I said earlier, K is a special man. K reached out to Deutsch, a man he had just gotten to know over the course of a few days the previous year, and helped get him through this difficult time. In an ESPN article, Deutsch recalled being so shaken after his son's death that he refused to talk to anyone. But one day, Coach K called and changed his perspective. K told Deutsch: "Ross, in basketball we define success by winning and losing, but with Rory, with this sickness, you don't define it with a cure or no cure. The definition will be how you handle it. You have handled the most horrific illness as winners."
So moved was Deutsch by K's words that the very next day, he and his wife founded the Rory David Deutsch Foundation for brain tumor research. Since the inception of the foundation, Deutsch and Krzyzewski have worked together on fundraisers and raised over $7 million.
This story is just one of many examples of Krzyzewski making the time to do what he thinks is right, even if it wasn't the best allocation of time for the success of his basketball career. If you are intrigued, I hope you take the time to find other stories. It is incredibly unlikely that anyone who reads this article will ever win 903 college basketball games. But that is not to say that we shouldn't try to learn from Krzyzewski's career. In American Express commercials that he used to star in, Coach K would claimed he didn't "look at [himself] as a basketball coach." Rather, he looked at "[himself] as a leader who happens to coach basketball." We can all be leaders. Whether we lead a basketball team to victory, a friend out of a hard time, or an organization with a worthy cause to success, we can do our best to mimic the example that Krzyzewski has established for us.
Coach, congratulations on reaching 903 wins. Thanks for the example you've set for college basketball, my university, and most importantly, the world. Today I pay homage to you for all you have done and can only hope that many people and I develop into a person that shares so many of the amazing traits that you continue to exemplify.
Shaunak Varma is a Program and Research Intern with the SISGI Group. To learn more about the SISGI Group visit www.sisgigroup.org.