Community Supported Agriculture – Making Friends with Your Food and Local Farmers
Ever since I was young, I have been personally invested in the food I eat.  While my grandfather started off by growing a few plant varieties in the backyard, my father has since ambitiously converted most of our yard into a vegetable garden.  I remember helping both my grandfather and father plant seeds in freshly tilled soil, nurturing them with water, and then excitedly picking the tomatoes, cucumbers, squash, or whatever produce we had growing in the garden that season.  Summers are particularly bountiful and we usually have to give away a few cucumbers a day to neighbors, as well as come up with some pretty creative ways to eat our self-grown produce!
While we don't sell the food we give to our neighbors and friends, this is a concept that has been increasing in popularity the past few years.  Local farmers and consumers have begun participating in Community Supported Agriculture (CSA) more and more in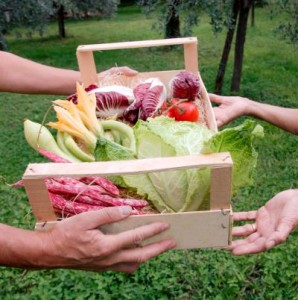 a bid to eat fresh foods and support the livelihood of farmers.  But what exactly is CSA?  And what does membership with CSA entail?  Well, this system of agriculture provides members a way to purchase a farmer's crop before it's planted.  The money the member pays goes directly to the farmer so he can pay for seeds, water, and equipment.  Each week, the farmer then delivers the crops that were harvested, without the use of the "middleman".  All the CSA members are thus invested in the harvest and the growing process.  When there's a good growing season, everyone benefits.  When the season's not so good, the members suffer much like the farmer does.  This is a great way for people to better understand the agricultural industry, connect to the food they eat, and create a stronger sense of community.
Here are some of the benefits of joining a CSA:
Supports local farmers as your money is given directly to the farmers who grow your produce.
Lower costs for both farmers and consumers since there is no "middleman."
Everything is locally grown, seasonal, fresh and sustainable.
Create a sense of community with those who supply your food.
Gain a better understanding of where your food comes from, how it's grown, and learn some of the ins-and-outs of agriculture.
Good way to connect to agriculture in a time where the food industry is mass-produced and removed from every-day citizens.
Become more engaged in food, farming and nutritional issues.
CSA is really an innovative strategy that connects local farmers with local consumers.  Food is something we cannot escape from in life, and sustainable food options are becoming more important.  That's why it's so wonderful that CSA allows the average citizen to share some agricultural responsibility with farmers.  Instead of paying a membership fee in places, some farms even promote having people put time into working alongside the farmers, to connect even more to the environment and the food process. Some CSA groups even maintain websites that publish the weekly harvest, such as how many heads of lettuce or how many pounds of squash were harvested.  Regardless of how each CSA is structured in terms of payment and involvement, the main goal of this is to promote a strong community of people that are interested in supporting a sustainable food system.
If you're interested in joining a CSA or just in learning more, make sure to check out Local Harvest's website on tips and FAQs.  And to find community supported agriculture in your area, please use this site here! Happy eating!
 Yvonne Chen is a SISGI Group Program and Research Intern.  Her focuses are in environmental sustainability, human rights issues, and economic aid in developing countries.