The issue of modern day slavery, particularly as it pertains to the trafficking of individuals for commercial sexual exploitation, has been getting increased attention.  With more and more awareness of the severity of the problem, it has become a hot topic that encompasses much controversy.  Agencies, advocates and policymakers have been exploring the issue of sex trafficking, researching and reporting prevalence rates, and suggesting best practices on how to effectively eliminate this major human rights violation.  Fortunately, there has been progressive movement in identifying current needs and working towards positive change.  Yet, progress is not met without concern or contention.
Ashton Kutcher and the Village Voice have been in a heated battle over facts and figures surrounding sex trafficking, going blow for blow over Twitter and challenging each other's actions taken towards eliminating the worldwide problem of sex slavery.  Ashton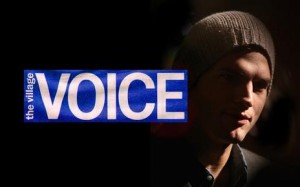 Kutcher and Demi Moore launched a campaign called "Real Men Don't Buy Girls," an initiative stemming from their Demi & Ashton Foundation (DNA) that quotes the number of children facing commercial sexual exploitation in the U.S. at 100,000 to 300,000 per year.  The Village Voice responded to these figures by making it front cover news—"Real Men Get Their Facts Straight"—by suggesting that the number of cases indicated by Kutcher & Moore were not correct or realistic, and that the statistics are actually related to kids "at-risk" of trafficking and not actual trafficking cases.  This sparked an almost instantaneous response from Kutcher via Twitter in which he called the Village Voice out on their escort ads in their paper and on their website Backpage.com, suggesting they promote and contribute to sex trafficking of innocent individuals across the country.  To take it a step further, Kutcher tweeted to major advertisers such as American Airlines, Dominos, and Disney challenging their use of the Village Voice as a means to promote their businesses.  This led to American Airlines almost immediately pulling their ads, with others in the talks of doing the same.
Fact-checking is a necessary tool in making sure the public is being informed accurately about the scope and seriousness of issues such as sex trafficking; however, personal attacks can be counterproductive.  I do not think that the Village Voice is necessarily wrong in their attempt to question statistics, but I do think that it was wrong in making a mockery of figures that have not only been quoted by Kutcher and Moore, but also agencies (governmental and non-profits), advocates, and others involved in the fight against modern day slavery for the past decade or so.  It is important to keep in mind that one of the biggest challenges in understanding any aspect of human trafficking is that it is an underground industry that most do not have access to.  It involves criminals who capitalize on the exploitation of others and victims who are scared to speak up.  Exact figures are extremely hard to determine; therefore, estimates stemming from research is our only way to somewhat understand the severity of the sex trafficking industry.  ECPAT-USA, a network of organizations pioneering the fight to end child sex trafficking, support the figures quoted by Kutcher by indicating that they are the most comprehensive statistics known to date.  The Village Voice personally attacked Kutcher's initiatives even though the figures quoted have been around longer than his campaign has been in effect.  I also question the motives of the Village Voice since the debatable numbers should not cancel out the fact that the DNA Foundation is doing extraordinary work to spread awareness and solicit action from the broader community.
The Village Voice has received a lot of heat for their adult classified ads, particularly on their site Backpage.com.  Despite their defense of safeguards that seek to monitor and block suspected incidences of child sex trafficking, they have received much criticism for ongoing cases of young children being sold for sex on their site and a lack of further initiatives to protect vulnerable women and children from this form of abuse.  Yet, the Village Voice has expressed their support for U.S. Senate Bill 596 which would provide direct assistance to trafficking victims by providing counseling, shelter, and other necessities—a very important need that is lacking in current initiatives.  They bring up a great discussion regarding current gaps in anti-trafficking programs, and emphasize the great need for funding to create direct victim assistance to really begin to make sustainable impacts.
While the DNA Foundation is doing excellent work to spread awareness and call for community action, there is the component of direct assistance to victims that is missing.  The Village Voice is no doubt contributing to sex trafficking through their Backpage site, yet makes significant points regarding the deficiencies in current anti-trafficking campaigns.  How do you think both can work together to create positive societal change that is sustainable?
Cynthia Castaldo-Walsh is a Program and Research Intern with the
SISGI Group
focused on gender-based conflict, non-violence and peacebuilding for conflict transformation, and sustainability for conflict resolution