Last week, I wrote about how nonprofits should work together to make sustainable change. Rather than organizations focusing on specific issues individually, I think that establishing a type of "nonprofit team" to address multiple aspects of a complex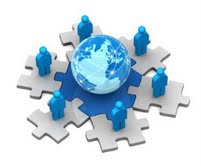 problem could really make a huge impact. Theoretically, I really think this could work – but there are obvious challenges that must be addressed.
The first obstacle is determining how exactly these teams should be formed. There are so many nonprofits out there, and many have overlapping causes and donors. Additionally, each area is unique and has its own needs – a team that works in Sub-Saharan Africa, for example, may not be as effective in India. It's important not to make a "one size fits all" model, and instead treat each area individually.
That being said, I do think the best way to create these teams is based on the area in need. The first thing to do is focus on what the community needs: clean water? A greater food supply? Better education? The more in-depth the evaluation, the more equipped the nonprofit team will be to address the challenges. Then, specific nonprofits will be put together to work for the greater good of the community. Many nonprofits have a specific area of interest already – like Bridges for Community, which focuses specifically on construction in Nicaragua – so those nonprofits would stay consistent with their interest areas. However, a team of nonprofits working together in a specific area has a much greater power to make a positive change than one organization working alone.
Another important question that must be addressed is how to allocate the funds for a particular nonprofit team. This is obviously a controversial topic, but one that is essential in making sure that the organizations have enough money to do their job well. Many donors have relationships with individual nonprofits; however, with all of the competition to get donations between them, I think there should be a common fund for each nonprofit team. Funds can be determined on a needs-based proportion, so each organization will have as much as they need – but not more. While this may decrease the connection between a donor and specific organization, it actually stretches their dollar even further. For example, not only would a donation help build a well, but it could also help improve education, reduce malnutrition and disease, and boost the local economy. Donors would contribute to overall community progress rather than a smaller, more specific goal.
Of course, operational costs must be covered as well. The more nonprofits that collaborate on a particular community, the greater the operational costs will be in order to accommodate staff salaries. I think the key in minimizing these costs and maximizing the efficiency of the team is to have a centralized staff. For example, if nine organizations work together in an African village, there could be a central strategy team of 3 project managers (each responsible for the projects of 3 organizations), 2 financial managers (to strategize how funds are distributed), and 2-3 overall team strategists who oversee the entire operation. Having a centralized staff – instead of project managers representing each nonprofit – will decrease the number of staff members and consequently the total operational expenses.
Because each area is unique, the primary focus of these central teams would be strategy. In other words, most of the hard work should be planning exactly how the organizations will accomplish their individual goals in the context of the team goals as a whole. This is why a small, centralized staff is essential – they can strategize exactly how each piece of the puzzle will fit together to make sustainable change. Having that oversight makes it easier to organize more specific projects.
Linking nonprofits into working together may be a radical way of thinking, and it definitely won't happen overnight. But by addressing the potential problems and offering solutions, it's possible that creating these nonprofit teams can become a reality, and we can start making real sustainable change. Perhaps an innovative approach like this is exactly what can really boost the nonprofit sector – rather than working alone and competing with each other, nonprofits can collaborate and work together for a greater cause. Can you imagine all that can be solved?
Rebecca Birnbaum
is a Program and Research Intern for the SISGI Group focusing on nonviolent conflict resolution, nonprofit management, and sustainable development. She is a senior at the University of Michigan, where she studies Anthropology, Political Science, and Peace and Social Justice. To learn more about the SISGI Group, visit
www.sisgigroup.org
.