A few weeks ago, I wrote a post applauding charity: water on their excellent use of social media to benefit the organization and its cause. Today, I want to focus on another unique aspect of the company that deserves equal praise: the way they market their business model.
Charity: water uses the 100% model, which means that 100% of all public donations goes directly to funding water projects. In other words, if someone was browsing their website and wanted to donate $20, every cent of that donation would go toward a water project. Even credit card and PayPal transaction fees are covered when donations are made online.
The 100% model is neither a revolutionary nor uncommon business  model used by nonprofits – what is special, however, is how charity: water uses it as a marketing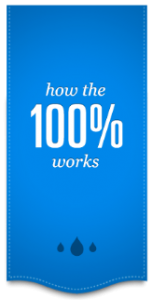 technique. Charity: water takes many opportunities to publicize – with pride and confidence – its ability to donate 100% of public donations. From mentioning it on the website's home page to its donation page to the FAQ page, charity: water assures and reassures donors that every penny of their money will be put to good use. Because there is no confusion about where the donation is going, this marketing technique connects the donor directly with the water project they're funding – which personalizes the experience of donating money to charity: water.
Thus far, charity: water has been able to stick to their model of using 100% of public donations for water projects. The fact that the nonprofit made such an ambitious and bold promise and it has been able to keep it contributes to the organization's great reputation.
So how does charity: water fund its administrative costs? Surely they're extensive, as expenses range from plane tickets to construction equipment to employee salaries. However, a combination of corporate sponsorships, foundations, events, and a membership program called The Well generates enough money to fund the numerous operating costs.
Charity: water proves that although the 100% model may be ambitious, success is possible if executed and marketed correctly. Surely, social media has helped spread charity: water's cause, and their success has further contributed to The Well's growing membership and an increasing number of corporate sponsorships. The more successful the organization has become, the more private support it has received to fund administrative costs. That way, charity: water has been able to maintain their 100% model.
To learn more about charity: water and the awesome work they do, be sure to check out their website.
Rebecca Birnbaum
is a Program and Research Intern with the SISGI Group focusing on nonviolent conflict resolution, nonprofit management, and sustainable development. She is a senior at the University of Michigan, where she studies Anthropology, Political Science, and Peace and Social Justice. To learn more about the SISGI Group, visit
www.sisgigroup.org
.