Remember last week when I posted about honoring U.N. Peacekeepers? Well, I'm sorry to report that a vehicle filled with U.N. Peacekeepers has since been attacked in Lebanon. On Friday, May 27, a marked United Nations Interim Force in Lebanon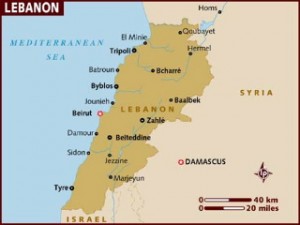 (UNIFIL) vehicle was blown up near the city of Sidon in southern Lebanon. Six Italian U.N. Peacekeepers were injured – one severely – along with two Lebanese civilians. This wasn't just a random act of violence, however – the attack was clearly intended to harm people who were trying to establish peace and stability to an unstable place.
This attack comes at a time when tensions are high, as Lebanon has lacked a stable government since January 2011. So far, no group has claimed responsibility for the attack. There are currently investigations underway to determine who was behind it so the perpetrators can be brought to justice. Additionally, this unfortunately isn't the first attack on U.N. Peacekeepers in Lebanon. The most recent attack was in January 2008, where two Peacekeepers were wounded. Although the attacks are relatively rare, they cannot be taken lightly.
Not only does this deeply sadden me, but it also seriously confuses me. It's difficult to wrap my mind around the idea that out of all the people to attack as tensions are rising in Lebanon, why attack those who are trying to bring about peace? Could it be that U.N. Peacekeepers are misrepresented in Lebanon, or is it possible that some people simply don't believe in peace? What would make someone want to attack – of all groups of people – U.N. Peacekeepers? How could they possibly be perceived as a threat? How could the idea of peace in general be perceived negatively?
This is where using people comprehension skills becomes important – they can help us better understand the attackers' point of view. To many, U.N. Peacekeepers work in Lebanon to establish peace and stability in an unstable place. However, to anti-government organizations and rebel groups, Peacekeeping operations can be perceived as a foreign intervention. Groups working to overthrow a government can therefore view any group trying to bring stability to Lebanon – or any country in a similar situation – as a threat and an enemy.
It may also be true that Peacekeepers do work against certain rebel groups. If an organization uses violence or contribute to the dangers of an unstable country, U.N. Peacekeepers will oppose their efforts as they work to minimize tensions and build stability. In this case, it makes sense why Peacekeepers are seen as an enemy. This may in fact be the motivation behind Friday's attack.
Do you think there's a way for U.N. Peacekeepers to be perceived as less of a threat? How can we prevent attacks like this from happening?
Rebecca Birnbaum
is a Program and Research Intern with the SISGI Group focusing on nonviolent conflict resolution, nonprofit management, and sustainable development. She is a senior at the University of Michigan, where she studies Anthropology, Political Science, and Peace and Social Justice. To learn more abou the SISGI Group visit www.sisgigroup.org.