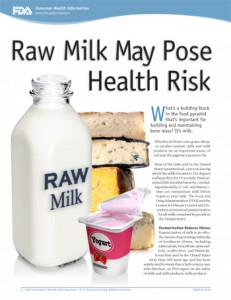 In my post "To test or not to test", I talked about the possibility of the Food & Drug Administration (FDA) beginning tests on milk (from farms that repeatedly sold cows tainted with drug residue).  Well, earlier this month, the FDA put out the above poster as a warning to the public.  Apparently, the FDA seems to think that there has recently been a high level of increase in illnesses resulting from raw-milk cheese and is therefore considering tightening the rule that allows producers to sell unpasteurized (raw milk) cheeses to the public.
I usually don't pay that close attention as to whether the milk I drink is pasteurized or unpasteurized but I love yogurts and when I saw the poster with that bold warning, it peaked my interest and I decided to find out more.
From my research, I found out that most of the milk sold in the U.S. is pasteurized (this simply means that the milk is heated to 161 degrees and kept  at that temperature for about 15 seconds).  However, there has recently been an increase in raw milk and cheeses, yogurts, and other products made from it.  The rationale is that most American's are adopting the "back to nature" philosophy.  This means that most people in the U.S. are either shopping at farmers markets, picking organic foods at groceries stores, participating in food cooperatives, growing their own food or trying to eat foods that are produced with minimal processing.
I have read some articles online that assert that the FDA's proposed testing is based on flawed analysis but I feel that it is best to err on the side of caution and I would rather have milk tested even if it means losing flavor.  But hey, that's just me.  What do you think?
Ufuoma Barbara Akpotaire is a Program and Research intern with the SISGI Group's Research Division. To learn more about the SISGI Group please visit www.sisgigroup.org.