The Dairy Industry vs. The Food and Drug Administration
The Food and Drug Administration ("FDA") intends to begin testing milk from farms that repeatedly sold cows tainted by drug residue. The regulators are concerned because of results of tests done by the Department of Agriculture on dairy cows, which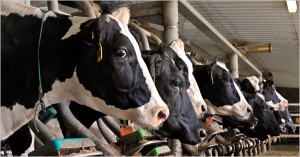 were sent to be slaughtered at meat plants. These tests have, over the years, revealed a small but persistent number of animals with drug residues, mostly antibiotics that violate legal limits.
According to William Neuman of The New York Times, "the testing plan met with fierce protest from the dairy industry, which said that it could force farmers to needlessly dump millions of gallons of milk while they waited for test results".
After reading the New York Times article, I wondered if these facts are true, how much antibiotics do we consume when we drink milk and why has it taken the FDA so long to consider the testing. The diary industry is apparently reluctant for the tests to be conducted because of the lengthy time it takes for tests results to be released. From the industry point of view, I can understand their concerns but if there are truly persistent number of animals with antibiotics above the legal limit and possible antibiotics in the dairy that are sold to the public for consumption, then, I suppose the lengthy tests might be the price which those in the dairy industry might have to pay in order to continue to sell dairy.  Furthermore, from an economic point of view, a cost benefit analysis of the implication of the testing would tilt in favor of undertaking the testing, in view of the potential health hazard that the consumers may be exposed to.
Although the FDA has postponed its planned testing in order to review its plan, I am hopeful that in a couple of weeks we would be certain on what the next line of action would be.
Ufuoma Barbara Akpotaire
is a Program and Research intern with the SISGI Group's Research Division. To learn more about the SISGI Group please visit
www.sisgigroup.org