I spent the last month studying abroad, I have realized how differently Western Cultures actually think from each other. I've spent the last month traveling around Denmark and England, and have really come to realize how different the countries are from the United States.
My class in Denmark focused on sustainable food efforts. This means that most of what we have looked at is happening on a global level. We have covered everything from the rise of organic foods to the production of GMOs.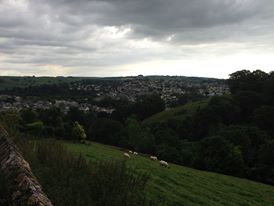 However, the thing I have found the most interesting was our study tour of a town called Totnes in England.
Totnes is what is called a Transition Town. While Totnes was one of the first of its kind, the transition network has taken off and is being used as a model for towns all over the world. If you're curious about where different initiatives are taking place you can check out a map of the different transition towns.
According to the "What" portion of the Transition Town website, the goal of Transition towns are to drive the communities towards healthier lifestyles while also decreasing the carbon footprint they leave on the world. The key factor is that it is something that starts with the people, with the community, and grows to be larger. It is not something that starts from the top down; it has to come from the bottom up.
So what does this mean, and why is it something that should be getting global attention? What I witnessed in Totnes were people who were genuinely trying to help other people. Local initiatives meant that things that have often been found to be elitist – such as farmers markets – were being reformatted to be accessible to those with low incomes.
Solar panels were being funded for houses, free gardens were being planted and maintained, local cafes used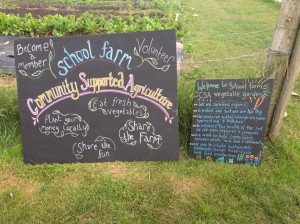 local produce. In many ways it was a chain that kept everything within the community. They even have "Totnes Pounds" their own local currency that actually has monetary value.
Now, I'm not saying that every town could do this. In fact, I think Totnes is very lucky to have this work so well for them. The town is only about 8,000 people, and it is not located near any major cities. There is also plenty of room for agriculture. However, I do think that the world could learn a lot from Totnes in the ways that human compassion is shown and in the ways that people strive to do what is best for their communities and not just for themselves.
Clearly, Transition Towns are something that will work better in smaller communities. It could potentially work on a neighborhood level, but in a city it's likely that consumers would still need to rely on factors located outside of the city. What I think the rest of the world should try to take out of Totnes and other Transition Towns is the compassion for others and the passion for doing good.
So much of what I experienced was all about helping others, be it the local community or the global community. We live in a world where we are more connected than ever, yet do not actually connect with one another on a personal level. We go in and out of our daily lives interacting through media and rarely actually connecting with one another.
By taking projects out of the Transition Town theories we could help rebuild that connection to each other and to the earth. For example, planting community gardens is something that can be accomplished in most places and has many payoffs. Totnes also has Skillshares, free workshops to teach people new skills. The range of classes are huge from bread baking to improve to first aid, and they are all taught by community members who want to give back to their community. They also have a wide variety of food projects to get involved in with food hubs, soup kitchens, and tree planting – specifically trees that produce nuts and fruit for the communities.
Though not written on their website, when I was in Totnes, we learned that many of the food projects are run out of a pre-school. The families of the children are one of the biggest users of the food projects, and the children are often exposed to the results. Its reasons like this that Totnes should be seen as a sort of example. Things are local and they include everybody. From a young age, children are taught the value of the community as well as healthy living, which is something more communities should strive for.
I encourage you to go out and find something in your community to get involved in. We have become so accustomed to interacting behind screens that it is time to reclaim interacting face-to-face. Here is a list of community gardens listed around the United States. Additionally, here is a list of the Transition Movements that can be found just within the United States.
Maybe this transition movement isn't your scene. That's fine, to be honest, it's not really mine either. But there is a lot that we can learn from it, and I suggest taking a minute to explore what it is all about. We will never be able to regain our connectivity if we don't take a minute to learn and grown with our fellow citizens.