Last week, the SISGI group's Alliance for Positive Youth Development hosted its 2012 Best Practices for Youth Conference from August 6th to August 10th, 2012. Many youth development professionals, educators, and young people attended this virtual conference to discuss issues that are important to youth today. All key issues such as girls and society, youth development, higher education, employment, civil development and social change were discussed at this conference. I had an opportunity to attend few conference sessions throughout last week as a social media correspondent for the conference. One positive aspect of the conference was that it was easily accessible just through the internet. I attended an global health conference a few months ago, and there was so much planning associated with it. I had to rent out a hotel room, and drive to the location. It was extremely time-consuming. Instead, I was able to listen to very interesting and thought-provoking presentations just from the comfort from my own home. Because of my summer classes, I had to miss few of speakers that presented earlier in the day. However, I was able to go back and view the prior presentations that I missed. Overall, it was a very pleasant and informative experience. In this blog post, I'll like to further discuss one of the main takeaways that I got from the conference.
One of the key takeaways from the conference was to push for more opportunities for young people to engage and create social change whether in existing non-profits or creating their own projects. I highly support this idea because as a young person myself, I know it is difficult to find opportunities in existing organizations and to find resources to develop my own project. Two workshops I attended, "Starting Your Own Non-Profit As a Young Leader" presented by Clarie Charamnac, and "Engaging Through Passion" presented by Leora Freidman were very resourceful. The best part of this conference was that young people like me were presenting and sharing their experience. I was learning from my own peers and was able to relate to their experiences more easily. I learned a lot of useful information that can help me implement my own project in the future.
Leora Freidman is the cofounder of Music is Medicine, which is an organization that uses the power of music to make a difference in the lives of seriously ill-children in local hospitals. One of the key lessons I learned from her workshop is using the latest trends in pop culture in your marketing strategy can be beneficial to your project. You can tie in those popular trends somehow into your cause and engage more youth to participate in your cause. This small tip can really help your project make a better impact and get more exposure.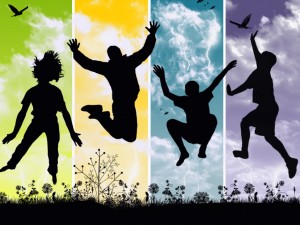 Another presenter, Clarie Charamnac shared her story of co-founding an organization called Women Lead which focuses on giving leadership and development training to women in Nepal. She provided useful first hand advice about the process of starting a nonprofit organization. One thing that she pointed out was that it is very important to conduct market research and learn about other organizations that are involved in the same cause. You always do not need to create a non-profit organization to solve a problem, and you get involved in other organizations that are passionate about the same cause. However, that does not mean that you cannot start your own organization, but it important to assess how different your own approach is in tackling the problem you are passionate about. I agree with this completely because there are so many nonprofit organizations out there that have similar goals and are approaching issues similarly. We do not need more organizations dealing with the same problems similarly. We need new approaches to solve these problems.
Both of these speakers gave very insightful advice for youth to engage in social good and to make a difference in the world. Overall, it important to push for more social good opportunities for young people. Young people are going to be the leaders of tomorrow, why shouldn't we offer as many as opportunities we can for them to make the world a better place?