"I call upon the people of the United States to celebrate the achievements of women and recommit ourselves to the goal of gender equality in this country."
–          President Barack Obama
Today has officially been declared Women's Equality Day in the United States—yet it is widely unheard of by most Americans.  On August 26, 1920, women were granted the right to vote with the passage of the 19th Amendment to the U.S. Constitution.  It is a day that has been proclaimed as such by every President, every year since 1971 when it was first introduced by Rep. Bella Abzug.  It is a day to commemorate the courageous women who battled for more than 70 years to achieve suffrage and formal political equality.  Yet, it is also a day to recognize that there is a long road ahead before all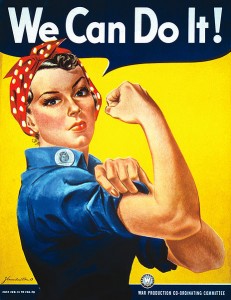 Americans achieve freedom.
What is special and unique about the women's rights movement is that it is not about achieving equality and freedom solely for women—it is about achieving suffrage for all human beings despite race, religion, sexuality, age, economic status, and so forth.  In essence, it is a movement about civil liberties that formally began in 1848 at the Seneca Falls Convention.  Nevertheless, it was years in the making even before the convention, having its foundation in the abolitionist movement.  Women in the 19th century played a significant role in the fight to end slavery that eventually led to the passage of the 13th, 14th, and 15th Amendments to the Constitution, all of which were ratified many years before women were granted the right to vote and still considered second-class citizens.
Although political equality has been achieved, in a sense, freedom has not been.  And considering that the women's right movement is as much about general social justice as it is about women's justice, the revolution is far from over.  Yes, we have come a long way.  It is not uncommon to see women in strong leadership roles in the workplace, as students on college campuses, as equal to their husbands under law, etc.  You can look at the 3 (arguably 4) waves of feminism and really envision the progression—but you can also conceptualize the many lacks of freedom that exist.  On average, women only make 77 cents to every dollar men do.  This is even lower for women of color—61 cents if African American and 52 cents if Latina.  Women outnumber men as college graduates, yet most top-level professions continue to be male-dominated.  For example, only 17% of women make up Congress.  Another example is that of Walmart, the largest U.S. employer, with 70% of its workforce being women.  Yet, only 30% are in managerial roles.  The Supreme Court recently dismissed a large class-action lawsuit claiming gender discrimination that could have covered approximately 1.5 million women—demonstrating limitations in the judicial system in allowing for equality and freedom to be exercised.  You can read more about gender inequality in the workplace in my previous blog post here.  Some of the other riveting inequality issues today include that of sexuality (i.e. same-sex marriage is not a constitutional "right" and only passed formally in 6 states); the increasing gap between the rich and poor and near disappearance of the middle class; the disparity in earnings between races; generational inequalities targeted at the young and the old; and ongoing battles over reproductive rights—just to name a few.
While there are several federal laws "protecting" the rights of individuals and claiming equality, freedom for all has not been achieved.  Celebrating the many milestones achieved in obtaining civil rights is very important, but so is recognizing that there is much more to be accomplished.  Let's take the day to reflect on the past and mobilize for the future.
Cynthia Castaldo-Walsh is a Program and Research Intern with the SISGI Groupfocused on gender-based conflict, non-violence and peacebuilding for conflict transformation, and sustainability for conflict resolution.