The media has self proclaimed these London Games to be the "Games of the Girls". For the first time in Olympic history, all 204 countries were represented by both male and female athletes. With the addition of boxing, women were finally able to compete in all Olympic events. In the United States, in particular, female athletes
won 58 medals, including 29 gold medals
, which means that if they were their own country, they alone would be third in the gold medal count. Team sports in particular were the name of the game for the United States – which won gold in women's basketball, soccer, water polo, and numerous relays of both track and swimming.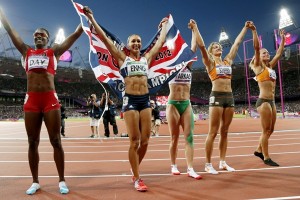 It is true – women ruled these Games. They dominated the last two weeks. However, what else dominated these Games? Negative publicity for many of these women. There were numerous news reports worldwide, which questioned the weight and fitness of many of these athletes. A public mockery was made about the physical appearance of certain other athletes, who didn't "fit the mold". Unfortunately for these women, a little success landed them with a lot of criticism. Here are some of the less-than-uplifting storylines from these "Games of the Girls".
Lolo Jones: American hurdler Lolo Jones was ripped apart in a New York Times article last week, in which her talent and athletic skills were called into question just days before competing in the 100 meter event final. The author stated that Jones cared more about gaining publicity than finishing on top of the podium. She proved the author wrong by going on to get a respective fourth place finish in the world during the final. However, it was clear that the article had already done its damage, as her eyes welled up on a Today interview the day after the final, as she stated, "I work six days a week every day for four years for a 12-second race, and the fact that they just tore me apart, it was just heartbreaking," Jones said. "I am the American-record holder indoors. I have two world indoor titles and just because I don't boast about these things, I don't think I should be ripped apart by media.
Gabby Douglas: The average lifespan of a tweet is 90 minutes. The amount of time the media has spent dissecting the tweets about Douglas' hair? Almost two weeks. While the tweets directed at her hairstyle during the gymnastic competition were unnecessary, the media coverage about the tweets has been blown out of proportion. The media should have focused on the positive – like the fact that Douglas was the first American gymnast to ever win gold in both the team and all-around final, and the outpouring of support that she received online because of that rather than latching on to a few negative tweets.
Fat Talk: A common theme during the Olympics was the rampant "fat talk" directed at all different types of female Olympians by coaches, officials, and the media alike. The Brazilian soccer team was called "a bit heavy" by the Cameroon soccer coach shortly following a match. British heptathlete Jessica Ennis was accused of being fat by a high-ranking UK athletic official (and then proceeded to win gold for Britain in the heptathlon). Early on in the Olympics, Australian swimmer Leisel Jones was slammed by a local Australian paper for being too heavy to compete (despite being a nine time Olympic medalist). Luckily, many of her fellow teammates, athletes, and fans alike came to her defense, using #layoffleisel and #goleisel on Twitter as a way to show their support. And then there's British swimmer Rebecca Adlington, who told reporters that she avoided reading comments on Twitter altogether during the Olympics because there were so many insults against her appearance (even though she won two bronze medals during the Games).
Why do we, both men and women alike, feel that we have the right to tear down our fellow female athletes? Why are we the ones to decide if they're not pretty enough, small enough, or skinny enough? We can't continue to celebrate their accomplishments one moment, and then insult their appearance the next. The media has a responsibility to end this vicious cycle, and actually start focusing on how a female athlete does rather than how a female athlete looks. And if media outlets aren't held accountable, then it is our job to counter this irresponsibility by writing letters to the editor, making comments online, or starting a twitter handle like #layoffleisel in the case of Leisel Jones. I'm all for it being the "Game of the Girls". However, my hope is that we leave that nickname for a time when all female athletes have the freedom to compete, no matter how they just might look in that bathing suit.