On Thursday, July 8th, a rather interesting live web chat was conducted by USAID Administrator Raj Shah and actor Kal Penn.  The topic of the web chat, "How to Make Change: Youth and International Development," was especially important for young people who are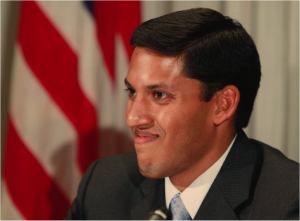 curious about their role in the world today.  Administrator Shah directly answered questions posed to him on twitter, facebook, and by the few young men and women in the conference room with him.  As questions continued to stream in, Administrator Shah continued to stress a few key points that are worth mentioning again.
First and foremost, many of the questions that young people asked Administrator Shah revolved around how the United States planned to eradicate poverty across the globe, and how the U.S. planned on helping impoverished countries stand on their own feet.  The response to both of these inquiries started with specific programs the U.S. had established to help with the above mentioned issues.  For example, the Obama administration has created the Feed the Future program in order to target the root of hunger in impecunious nations, and creating lasting solutions to stop hunger.  However, more so than the programs, Administrator Shah continuously stated that international aid was changing, and that it is important to create self-sufficient foreign nations.  This cannot be done by simply writing out a check to a country, but by helping nations use technological advancements to increase food production, have clean water, and educate the people to use such resources. In this way, structured partnerships can be created with developing nations in order to increase job opportunities, build relations, and solve global problems.
On the domestic level, many questions to Administrator Shah asked why the United States should provide foreign aid in this dire economy, and how to get the youth more interested in global issues.  Mr. Shah answered the first question by stating that it is much cheaper for the U.S. to build bridges than to send soldiers.  When the U.S. is seen as a positive force and partner in the world, many developing countries are eager to create lasting partnerships with the United States.  These partnerships can also cause more jobs to be created in America because developing nations will most likely begin to increase their demand for American inventions.  Since international development can lead to economic connections, Administrator Shah urged the youth to become interested in global issues.  One way to do so is to visit whitehouse.gov/youngamericans, and getting involved in projects and developments.  Administrator Shah also mentioned that many universities, like UC Berkeley, have places like the Blum Center that look for lasting solutions to fight poverty in developing economies. 
The live webchat conducted by Administrator Shah was a worthwhile listen because it addressed many issues regarding the youth, and their role in the world.  Furthermore, the webchat proved that the youth also have a responsibility to learn about the world they live in from an early age.  It is extremely important that young people get involved in learning how they can make lasting and positive changes in developing nations.  As a growing force, the American youth can begin the movement towards making the world a better place for themselves and millions of others.