When we talk about ways to increase girls' school attendance, we tend to focus on things like cash transfers and community awareness. However, in recent years, organizations have started to consider one of the more taboo subjects in women's health: menstruation. Social and cultural standards make talking about menstruation difficult, and oftentimes, it gets placed at the bottom of the priority list. However, studies are showing that menstruation has a large impact on the health and happiness of women.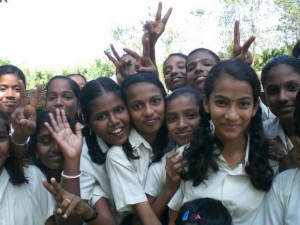 In some developing nations, girls may miss up to 50 days of work or class per year due to menstruation. Schools in particular have been singled out for their insensitivity to the needs of girls. A survey in Nepal found that girls listed a lack of privacy for cleaning and washing as the number one reason for missed classes during their period. Bathrooms may be single sex, may lack privacy, or may be unequipped to deal with menstruation. While it would be overstating it to suggest that girls drop out of school solely because of menstruation, a lack of sanitation and washing facilities means that girls may fall behind in classes or may have one more reason to avoid further education.
In addition to the lack of proper bathroom facilities, women face a lack of affordable menstruation products. In Rwanda, 36% of girls who miss school blamed expensive sanitary products. Disposable pads and tampons may be too costly to consistently purchase; in Zimbabwe, sanitary pads can cost as much as half a month's salary. As a result, many women turn to unhygienic options such as newspaper, rags, sand, or corn husks, leaving them open to infection and reproductive health problems. Part of the problem is education, as girls and women may be unaware of the dangers of using these materials. However, the larger issue is the lack of affordability and access to safer options. In India, only 12% of women use sanitary napkins. While donations of disposable pads may provide a small measure of relief, it's not a sustainable or environmentally-friendly solution.
That's where organizations such as Goonj come in. Goonj's 'Not Just a Piece of Cloth' initiative takes donations of unused clothes to make into cheap, biodegradable sanitary napkins. Combining these sterilized sanitary products with education on proper hygiene, Goonj is able to provide a more sustainable way to improve women's health.  The SHE Initiative also works on a local basis to provide women with safe menstruation products. Centered in Rwanda, SHE provides local women with the capital and training they need to start manufacturing safe, inexpensive, and environmentally-friendly sanitary napkins. To learn more about the SHE Initiative, take a look at this video.
While menstruation is an issue that rarely receives the spotlight, organizations like Goonj and SHE have begun finding ways to address the needs of women and break the silence surrounding a taboo topic.