In my last blog post I wrote about The International Ecotourism Society's list of 10 energy saving tips for travelers, and today I will cover another aspect of sustainable tourism promoted by TIES: economic impact.  It isn't enough to reduce your carbon footprint while traveling; you must also increase your economic footprint, otherwise it isn't really "sustainable" tourism, as the local communities cannot continue to support tourism if they don't have a consistent infusion of tourist dollars.  TIES provides travelers with a list of ways they can increase their economic impact on the local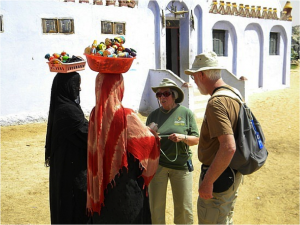 community, as it does with ways to save energy and reduce carbon emissions, but unfortunately this list is not nearly as comprehensive.  The list of 10 do's and don'ts contains only 4 tips related to economics, and while these are helpful, they aren't enough.
Some of these tips seem pretty intuitive; buying local (tip 9), for instance, is, in my opinion, one of the main reasons to travel.  I want to eat local foods and visit local markets when I'm staying somewhere new, and if there's a local festival going on I want to see it.  Also, it's important to note that this applies everywhere, whether you're staying in a tropical jungle or a cosmopolitan city.  You can still eat locally (or regionally) grown foods as opposed to imported foods.  Choosing locally-owned lodges or hotels can be a bit more difficult depending on where you're headed, though, and local airlines can be hit-or-miss.  Hiring local guides (tip 10) is likewise intuitive: if I'm visiting a foreign city or town, who better to show me around than a local guide?  They will likely know a lot more than anyone brought in by the hotel or travel agency, and can show you things you might otherwise have missed.
Paying the fair price (tip 8) is something to keep in mind if you're going to an area where haggling is common.  Personally, I have never visited a country where haggling is expected, but based on the accounts of friends who have been to such places, it's easy to get caught up in a very aggressive frame of mind.  Being charged the "American" or "Western" price is often seen as a personal affront, and the ultimate goal for travelers is to bargain their way down to the elusive "local" price.  However, one reason tourists are charged such high prices is because tourism is not just about sharing sites with visitors, it is tied directly to the economic growth plans of many countries and used to support the economic sustainability of the local population. Tourism is designed to increase the infusion of foreign dollars into the local economy, so paying a fair price can provide huge economic benefits to support the local economy and increase the economic livelihood of a destination's residents. This is especially true for those working in the informal sectors (street vendors and informal guides) that interact with tourists as a key portion of their business. For those in high poverty but high tourism destinations, these economic transactions within tourism, support and maintain entire households. You don't have to take the first price offered by a vendor, as, if bargaining is common, they most likely expect you to haggle a little, but you shouldn't bring the price down too low, either.
Asking the hotel staff about hotel practices and working conditions (tip 1) is not something I had considered before, but it's a good tip—even if TIES doesn't include one of the most important elements.  TIES suggests that travelers ask about environmental policies and practices, working conditions, and whether or not the hotel supports community projects, but does not include asking if the hotel employs local labor.  It is important to stay at a hotel that follows sound environmental practices and treats their workers well, but employing local workers is one of the best ways to improve the well-being of local people (which is part of the TIES definition of ecotourism).  Interestingly, the large and often wasteful resorts are the ones that employ a large number of local workers, while ecotourism companies frequently bring in a majority of foreign workers. These high levels of employment within large resorts, however, may be in the lowest tiers of employment, offering little to no growth opportunities or management experience. The positions with the most control and power may be limited to foreigners, once again decreasing the effectiveness of tourism as a development strategy for the local economy.
All of these do's and don'ts are things to remember while traveling, but TIES really could go further to emphasize the importance of maximizing your economic impact while traveling and to provide instruction on how to do so, as it's the more frequently forgotten aspect of ecotourism.   Economics gets only 4 tips out of 10, whereas the environment got a list of its own and 3 tips on the do's and don'ts list.  If you want more information TIES suggests going to their Ecotourism Explorer to find organizations and businesses dedicated to giving back to the community, but it's a somewhat difficult-to-use application and if there are no organizations listed for your desired destination your only recourse is to stick to the 4 tips mentioned earlier.  They're good tips, but they don't get enough emphasis and there's a lot more that can be done.
Michelle Bovee
is a SISGI Group Program and Research Intern focused on international affairs, economic development, and responsible tourism. To learn more about the SISGI Group visit 
www.sisgigroup.org