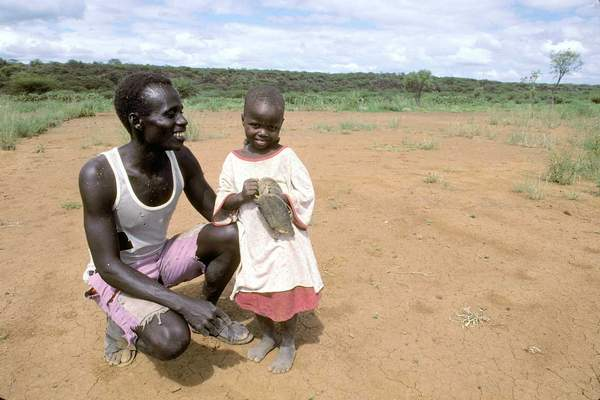 Over the past few weeks, I've talked about the importance of educating women to reduce maternal mortality. Many NGO programs agree with this focus, concentrating scare resources on providing women with information and training. At the same time, recent articles have suggested that this intense focus on female-only reproductive education may be shortsighted. In other words, men need to be involved and educated as well.
In South Africa, for example, obstetric care decisions are made by the family, and not by the woman alone. Males may control the finances and often decide whether or not to seek professional obstetric help. In general, men do not accompany their spouses to any prenatal appointments, and rarely have contact with public reproductive health services, getting their condoms from private sources. This means that overall, men have a limited understanding of possible obstetric complications or STIs, endangering both their health and the health of their spouses. While initial research indicates that males believe increased participation during labor or prenatal visits is important, cultural norms prevent them from acting on these beliefs. Childbirth is seen as the female domain, and men are expected to stay out of the labor room. This lack of participation can be dangerous: when uneducated men are called upon to make the necessary decisions during obstetric emergencies, they might end up making the wrong one.
The USAID's Maternal and Child Health Integrated Program (MCHIP) is one program that has attempted to integrate and educate men. The program connects with village elders, religious groups, and other community leaders to help emphasize responsible parenthood and highlight the importance of participation during pregnancy.  In certain parts of Nigeria, women are unable to leave the home without permission from their husbands. For these regions, USAID has worked to send male motivators, or men trained in communication, to help provide men with the knowledge they need to keep their family healthy.
While these overtures are not always accepted, certain areas have gotten positive results. In Bangladesh, MCHIP is teaching groups of men how to deal with obstetric emergencies, ensuring that men are equipped to deal with any complication that may arise. As a result of this program, Bangladeshi males have set aside money for emergency transportation, in case problems arise during the pregnancy. Such practices underscore the benefits of involving men in reproductive health programs. As MCHIP team leader Steve Hodgins suggests in a Frontlines article, "For husbands to support, they must be well-informed and sensitized."
Pallavi Trikutam is a Program and Research Intern with the SISGI Group focused on maternal, infant, and child health issues as well as water security. She is a psychology and political science student at UC Berkeley.