In 2005, India introduced Janani Suraksha Yojana (JSY), an innovative program intended to reduce maternal and neo-natal mortality by providing women with cash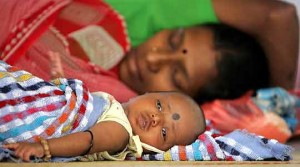 incentives to give birth in a health facility. Currently, India ranks first in the number of maternal and under-5 deaths, with 68,000 women dying each year due to complications during or after childbirth. These deaths are in part the result of a lack of qualified care. Only 13% of low income women give birth in a health facility, and only 1 in 7 home births are assisted by a trained professional. This means women who experience complications during childbirth, such as hemorrhaging or obstructed births, are unable to get help they need.
Recent studies have attempted to explain the low number of institutional births by using the "three delays" model. This model suggests that there is a delay in deciding to seek help, in accessing a health facility, and in obtaining care when at the facility. In other words, families may put off seeking help due to the high costs associated with hospital care or cultural expectations of childbirth. However, when help is needed, the distance to clinics and the poor quality of care received there may also result in deadly consequences.
JSY program addresses some of these issues by removing the cost of accessing qualified care. In this program, women below the poverty line are provided with cash payments if they deliver in a hospital or eligible clinic. The program also employs women health workers, called ASHAs, to counsel pregnant women and assist them during labor.
At the five-year mark since the implementation of this program, several studies have been published commenting on the successes and failures of JSY. According to one analysis, there has been an improvement in infant mortality, with 4 fewer deaths per 1,000 births in the first week of life. In addition, an estimate of five states suggests "…that 55 per cent of the births … occurred in an institution and the direct beneficiaries of JSY were 47 per cent." This number is an improvement over earlier estimates of hospital births, if not its actual goal of reaching an 80% institutional birth rate. Admittedly, this is an ambitious goal, and the question remains whether India has the public facilities to support such a high rate of deliveries. The current facilities are inadequate, many lacking life-saving services, such as the ability to perform C-sections or blood transfusions. Without the capability of providing such emergency procedures, the effectiveness of these clinics are suspect.
The program is further hobbled by its uneven application and its failure to fully alleviate the costs associated with institutional birth. States demonstrated variable JSY implementation, with some states having less than 5% to 44% of women receiving cash payouts. And even with the JSY compensation, surveys show one in three families were forced to sell property or borrow money to pay for the expenses related to the institutional birth. This suggests that in some cases, the program may be harming the poor rather than supporting them. Advocating institutional birth without the full funding needed to cover the expenses ends up worsening the costs associated with childbirth.
The JSY program in India has employed a unique solution to address its high rate of maternal mortality. However, further studies must be conducted before the program can be declared a success, as the impacts on maternal health are still being examined. The problems with implementation and the lack of adequate facilities suggest that this program may not be able to reach the goal of 80% institutional birth rate without substantial improvements. At the same time, it is certainly a strong step towards a healthier future.
Pallavi Trikutam is a Program and Research Intern with the SISGI Group focused on maternal, infant, and child health issues as well as water security. She is a psychology and political science student at UC Berkeley.